Simmons to the Angels: great move, or was the cost too high?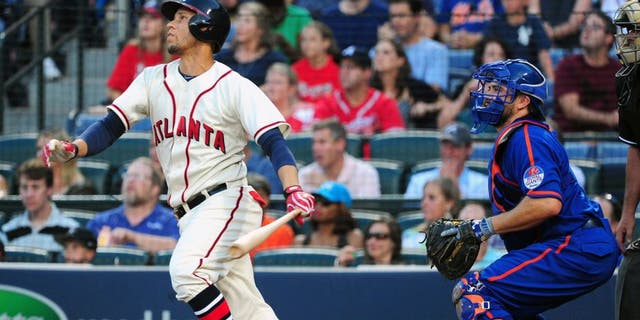 New Los Angeles Angels general manager Billy Eppler made his first big splash with the Halos on Thursday, acquiring Gold Glove shortstop Andrelton Simmons and catching prospect Jose Briceno from the Atlanta Braves in exchange for a trio of players: shortstop Erick Aybar, minor-league pitchers Sean Newcomb and Chris Ellis and $2.5 million.
On the surface, the deal is immensely intriguing for both clubs. The Angels now have arguably the league's top defensive shortstop in Simmons, who is signed through the 2020 season. However, picking up a player of his caliber came at a cost for the Halos: Newcomb and Ellis were considered their top two prospects. The Braves, meanwhile, now have some big questions to answer according to Ken Rosenthal. As a result of these narratives, reactions to the deal have been mixed in the hours since the news broke.
MLB.com's Alden Gonzalez and Mike DiGiovanna of the Los Angeles Times chimed in on Twitter, beginning with a note from Gonzalez regarding the great cost the Angels paid for Simmons:
Gonzalez later added a quote from Eppler, who admitted the 'pain' associated with agreeing to this exchange of players:
Here are a few more quotes from Eppler regarding the trade, as passed along by Jeff Fletcher of the O.C. Register:
It's easy to see what made Simmons attractive to the Angels, but it wasn't necesarily due to his skills at the plate. While he's an elite defender, his offensive skill set leaves a bit to be desired. In 2015, Simmons hit .265/.321/.338 with four home runs and an OPS of just .660...and all of those statistics were improvements (!) from his 2014 line.
But, about that defense: It's very, very good. Here's a stat comparing Simmons' ability to limit runs on defense as compared to that of the Angels, a well as a video showcasing Simmons' otherworldly ability with the glove:
The success or failure of this trade will take time to develop and is largely the result of one's particular perspective, but regardless of what happens down the line it was a particularly dramatic way to kick-start Hot Stove season.