Simeon Rice rebounds after dark ending to NFL career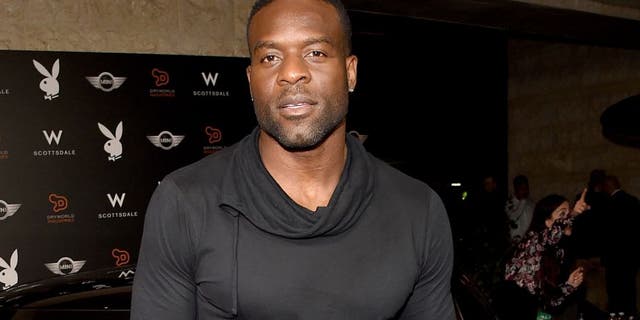 It was a fun moment, but leading the Tampa Bay Buccaneers onto the field for last Monday night's preseason game against Cincinnati didn't provide the sense of closure Simeon Rice was once seeking.
Rice had already found a way to leave his days as one of the league's greatest pass-rushers behind him.
He had no choice.
Years ago, Rice had envisioned how his final NFL moment would unfold. He would high-five Buccaneers fans while running around Raymond James Stadium in the same fashion that the late Reggie White did inside the Louisiana Superdome after Green Bay won Super Bowl XXXI.
"I thought I was going to do my victory lap," Rice said. "But often times, it's not like that. Players just go into obscurity."
Or worse.
Rice's story isn't uncommon among his peers. Rice found himself struggling to replace football's trappings -- the rush of competition, the regimented structure, the acclaim and the accolades -- when his NFL career ended in 2007 following his release by Denver and Indianapolis. Rice even returned to the gridiron two years later with the now-defunct United Football League in hopes of rekindling NFL interest.
It never came.
After more than a decade starring for Arizona and Tampa Bay, Rice had plenty of time to prepare for his post-football days. He never truly did.
Rice admitted falling into a state of depression that he described as "fading to black."
"I was there for a minute," Rice said. "It was an emotion I had never felt. I had been sad but never depressed for a year-and-a-half.
"I finally said I've got to do something about this."
That's when Rice began to write his own script -- in more ways than one.
Long fascinated by the movie industry, Rice decided to act upon that interest in 2009 by attending the New York Film Academy. And just like he did when hunting opposing quarterbacks, Rice found his target.
A series of successful smaller projects led to Rice producing, writing, directing and largely financing his first major motion picture. "Unsullied" will debut in select theatres nationwide over the next two weekends.
The premise: A female track star (played by actress Murray Gray) must escape the clutches of two male sociopaths after she is kidnapped en route to a meet.
"It was based upon an idea I came up with after watching many movies of that genre that I really, really enjoyed like 'No Country for Old Men' and 'Hostel'," Rice said of his R-rated suspense thriller. "Those were films that leave you on the edge of your seat, high-intensity films with big, big action.
"I wanted to make a movie like that -- that moves you, grips you and is a rollercoaster ride. What burst out of that was 'Unsullied'."
The "Unsullied" release comes at a good time since Rice is riding a wave of media publicity for another type of film. At the advice of defensive coordinator Rod Marinelli, Dallas Cowboys rookie defensive end Randy Gregory said he has watched extensive video of Rice hoping to accelerate his NFL development.
Although he is working to add muscle to his 6-foot-6 frame, Gregory shares the same lanky body type as Rice. Marinelli also was Tampa Bay's defensive line coach from 2001 to 2005, which is when Rice accumulated 67.5 of his 122 career sacks.
"The kid is going to be great," Rice said of Gregory. "He's from my mold. If the kid truly loves football and wants to walk in the halls of greatness and do some of the things I was able to do, God bless him. He's with a guy who knows my story. (Marinelli) understands what it takes. At a certain point, I was the blueprint of getting it done."
Rice said his biggest career regret was not allowing a shoulder injury suffered during the 2006 season to sufficiently heal before trying to latch on with other teams the next year following his Bucs release.
By the time he was mended in 2008, NFL teams believed a 34-year-old Rice had little to offer.
"I was in an unhealthy state of mind," said Rice, the second-fastest player to reach 100 sacks in NFL history behind White. "I was into that, 'I'm going to come back and prove this.' There was really nothing to prove. It should have just been me getting back healthy."
Like in his playing days, modesty isn't a strong suit for Rice even in retirement. Rice strongly believes he deserves induction into the Pro Football Hall of Fame despite his failure to crack into the annual group of 15 finalists since becoming eligible in 2013. He also takes pride in the fact no Bucs defender has reached double-digits in sacks since he notched 14 in 2005.
"All the places I left, they say, 'We're still trying to fill that void,'" said Rice, now 41. "They need players that have it in them. Then you understand what real legendary status is. It's not about talk. Yeah, I could talk the talk but I walked that journey. I went to hell and back for what I really wanted.
"I would go to practice in the morning and sometimes I was late and maybe I would get fined. But I would literally stay there until 10, 11 o'clock at night training and draining the lights out to where they barred me from the building and said, 'You've got to go home.' I was that dedicated to the game."
That same passion now extends to Rice's approach toward the cinema.
"Don't ever, ever give up on yourself," he said. "Believe in yourself without a doubt and have confidence to walk that cold, dark winter walk to your goal. Because on the other side, there will be a reward."
In his case, that's being able to control the final cut.
For more information on 'Unsullied', visit http://www.unsulliedthefilm.com/. Rice was interviewed by Alex Marvez and co-host Zig Fracassi on SiriusXM NFL Radio