Silvio Berlusconi finally sells AC Milan to Chinese investors as club eyes brighter future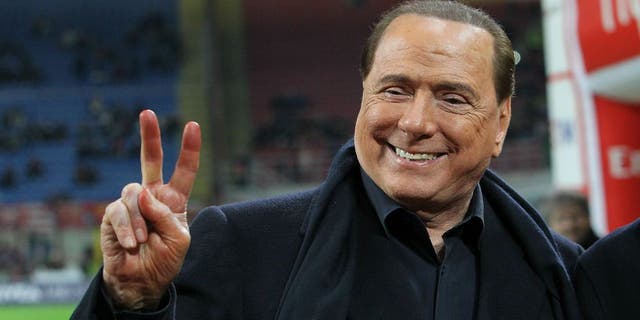 NEWYou can now listen to Fox News articles!
AC Milan is finallyunder new ownership. The club will now change hands for the first time in 31 years, asthe740 million sale to a Chinese consortium has finally been completed after two years of off-and-on negotiation and uncertainty.
The sale was first announced in May of 2016, but was postponed twice due to funding complications. However, a loan has allowedRossoneri Sport Investment Lux to finally complete the deal, and usher in a new era for AC Milan after 31 years with former Italian Prime Minister Silvio Berlusconi at the helm.
The deal values Milan at 740 million (around $800 million), and requires the investors to spend 350 million ($372 million) over three years on improvements to the club.
Rossoneri Sport Investment Lux, lead by Chinese businessman Yonghong Li, had made several attempts to buy Milan previously, with the deal falling apart a number of times due to delays and failed negotiations.
Under Berlusconi, Milan became one of Europe's preeminent clubs, winning eight league titles, one Italian Cup, seven Super Cups as well as five Champions League trophies and five UEFA Super Cups. However, towards the latter years of his reign, Milan have floundered, and they haven't participated in European competition since the 2013/14 season.
Milan were directly tied to Berlusconi's personal finances over the years, with their fortunes fluctuating as wildly as his. It was his investment that brought the club forward, but with the advent of Financial Fair Play, Milan's steadily growing debt, and his own issues with the law, the club were forced to sell some of its best players year after year without significant reinvestment, leaving them floundering. In a span of just two years, Milan lost world class players like Andrea Pirlo, Clarence Seedorf, Alessandro Nesta, Pippo Inzaghi, Gennaro Gattuso, Mark Van Bommel and Gianluca Zambrotta, who were then followed by Zlatan Ibrahimovic and Thiago Silva. Without the funds to properly replace them, Milan were always bound to struggle, and they never properly recovered from the body blow.
Now, the Berlusconi era is over, and Milan moves forward into the future, joining neighbors and bitter rivals Inter Milan in moving to Chinese ownership, hopefully bringing more stability to a club that's been anything but in the last few years.
Coincidentally, the first match under the new ownership will be the Derby della Madonninaon Saturday against Inter. Maybe now AC Milan can finally become relevant in Italy, and Europe, again.
MORE FROM FOX SOCCER