Silver Slugger winner Andrew McCutchen's top 5 homers of 2015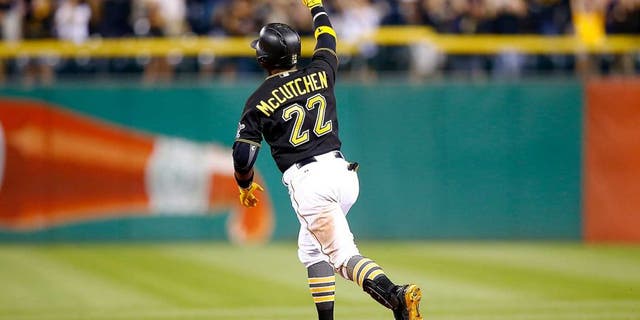 Andrew McCutchen celebrates as he rounds the bases after hitting a walk-off home run. Jared Wickerham Getty Images
Now that Andrew McCutchen has been anointed with his fourth-consecutive Silver Slugger Award, let's take a look back at some of the Pittsburgh Pirates slugger's best hits of the 2015 season.
1. Three-run opposite-field blast puts Pirates ahead (April 12)
Even in the midst of an early-season slump, McCutchen still put his stamp on a game in April against the Brewers. With the Pirates trailing, he roped a line-drive home run over the wall in right-center field to give Pittsburgh a decisive 4-2 lead.
2. Two-run shot is absolutely ripped (May 12)
If you're looking at the tape measure on this home run, you're looking at the wrong thing. McCutchen's two-run home run against the Phillies in May barely cleared the wall, but was absolutely destroyed, once again showcasing his immense strength.
3. Cutch ties it up with one swing (May 20)
While McCutchen had worked his way out of an early-season slump, it appeared as though he was headed back towards futility when he posted a 1 for 12 stretch. However, he quickly debunked the notion that he was slipping when he went 3 for 5 against the Phillies, one of 10 multi-hit games he recorded in May.
He also ensured that everyone was reminded of his game-changing power by crushing a solo homer in the bottom of the eighth to tie the game.
4. Bombs away! (July 9)
After working the count to 3-2 on 11 pitches, McCutchen won a battle with St. Louis Cardinals reliever Seth Maness -- by a longshot. Taking advantage of a dead-red fastball, McCutchen cranked a towering shot to center field for an estimated 444 feet.
5. Walking off the plank (July 11)
Trailing their NL Central rival St. Louis Cardinals in the 14th inning, it appeared as though the Pirates would lose a draining marathon game. McCutchen destroyed that narrative, though. With no outs and a runner on first, McCutchen crushed a ball over the center field wall, winning the game in walk-off fashion.