Sign in Trail Blazers' locker room taken as slur of Grizzlies' Marc Gasol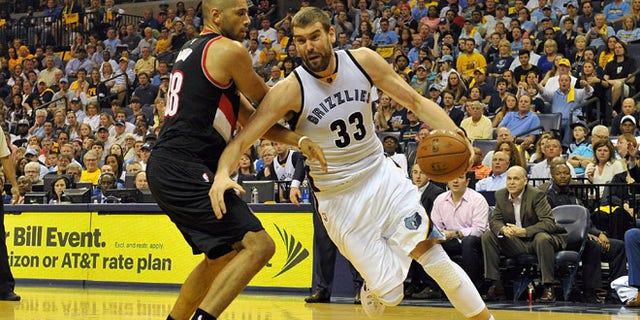 A disparaging sign found in the Portland Trail Blazers' visiting locker room before Game 1 of a Western Conference first-round playoff series has stirred up controversy for purportedly being anti-Hispanic.
Found taped to a television monitor in the visitor's locker room at FedEx Forum in Memphis when the media was let in before Sunday night's game, the sign read, "We don't lose to Spanish players" – apparently in reference to the Grizzlies' All-Star center Marc Gasol.
For his part, Gasol shrugged off the sign and said that he was more focused on the playoff series with the Trail Blazers, which the Grizzlies led 1-0.
"I don't know where it comes from, and I don't know what it means," Gasol said after practice, according to The Oregonian. "I have better things to think about than what they're writing on the wall. They've had Spanish players on their team in the past. I can think of three in the recent past. I don't know, and I don't care."
Some critics, however, have called out the NBA for a double standard – arguing that if the sign targeted black players there would be major issue and possibly firings.
"Whether society has been desensitized to Hispanic stereotypes or it's a clear double-standard, some cultural and racial biases if not outright racism has an easier forum to express itself when it comes to Hispanics," John P. Lopez, a writer for CBS Houston said. "How many times do we hear people joke about, 'hiring a Mexican' or jokes relating to, 'taco trucks,' 'yard work' or other stereotypes.
Lopez added: "How would similar comments about other minority groups be received? We already know the answer. People get fired over those comments in the workplace. But not in this case. Because in this case, it doesn't seem to be a big deal."
Trail Blazers Coach Terry Stotts downplayed the controversy following the team's 100-86 Game 1 loss to the Grizzlies.
"First of all, that wasn't the only thing that was on that [card]," Stotts said, according to ESPN. "I wouldn't classify that as the only message of the day. But that being said, it was a motivational thing, and I think the Spanish thing was a little lighthearted. It was the things we needed to do to win the series."
Like us on Facebook
Follow us on Twitter & Instagram