Shrigley, Hemsley lead SDSU to 74-55 win vs Utah State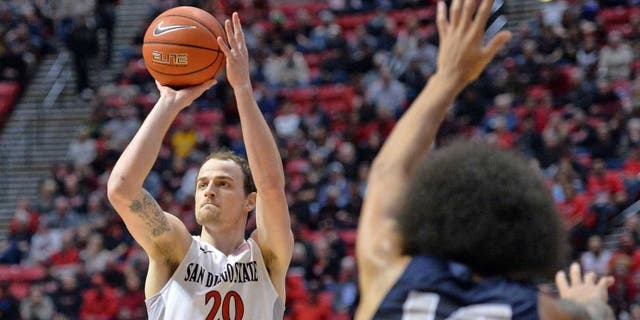 NEWYou can now listen to Fox News articles!
SAN DIEGO (AP) -- Matt Shrigley and Jeremy Hemsley scored 14 points apiece for San Diego State, which made 12 straight shots during the first half en route to beating Utah State 74-55 Saturday night.
Trey Kell added 12 points for SDSU (10-7, 2-3 Mountain West), which won its second straight game after losing the first three games of Mountain West Conference play.
Sam Merrill scored 18 and Jalen Moore 13 for the Aggies (8-9, 2-4).
Hemsley hit a 3-pointer three minutes into the game to start the string of 12 straight baskets, which carried the Aztecs to a 31-15 lead after Shrigley made consecutive 3-pointers midway through the half. Shrigley made another jumper, Trey Kell had two jumpers and Hemsley added another 3-pointer and a layup.
Utah State then went on a 14-0 run, capped by Moore's 3-pointer, to pull to 31-29. The Aztecs scored the next 10 points, including two straight shots by Malik Pope and a 3-pointer by Shrigley. SDSU led 41-34 at halftime.
SDSU went on an 11-0 run to open the second half, including a jumper and a 3-poiniter by Dakarai Allen and two buckets by Zylan Cheatham.
Shrigley was 4 of 6 from 3-point range and the Aztecs made 10 of 24.