Should the Chiefs consider acquiring Robert Griffin III?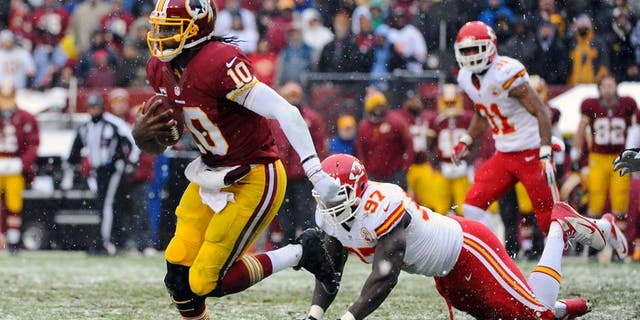 NEWYou can now listen to Fox News articles!
Andy Reid has made quarterbacks like A.J. Feeley and Koy Detmer look good.
The Chiefs head coach might be able to do the same with a certain embattled Washington Redskins passer.
Robert Griffin III is certainly one huge reclamation project. But that's Reid's specialty -- in Philadelphia, he reignited Michaek Vick's career and went to the playoffs with an aging Jeff Garcia.
RGIII certainly fits that mold now. After setting the league on fire in 2012, the former Heisman winner has failed in drama-filled D.C.
Reid's offense might be the best thing for Griffin after losing the Skins' starting job. It's quarterback-friendly, thrives with mobile passers at the helm, and is predicated on quick reads and releases.
Kansas City's quarterback room is plenty full as is. But if Reid has room for one more, he could work his old magic to revive a downtrodden Griffin III.