Should Bulls bench Joakim Noah and start Taj Gibson?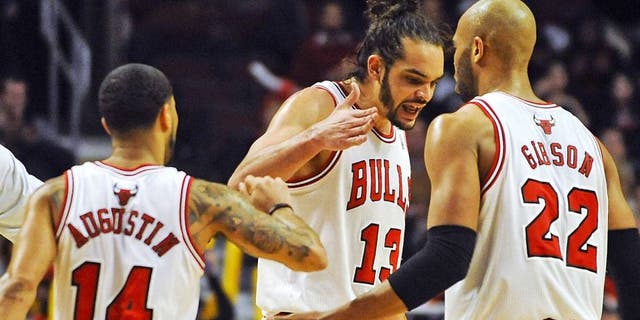 NEWYou can now listen to Fox News articles!
Last season was a down one for Joakim Noah by any statistical measurement. Injuries limited him to appearing in just 67 regular season contests, and when he did play, they limited him to the point where he became a liability on the offensive end of the floor.
Chicago has a new head coach in Fred Hoiberg who will surely consider tinkering with the rotation. If he feels the team's talent could be used by mixing up the lineups, there's a possibility that a change in the starting lineup could occur, where Noah plays with the reserves while Taj Gibson is elevated to the role of starter. Jeremy Karll of Pippen Ain't Easy explains:
"Benching Noah and starting Taj Gibson would finally give Gibson a chance to start like the Bulls had planned in previous years. Gibson was the expected starter before the Bulls traded Carlos Boozer for Pau Gasol last offseason. Gibson still started 17 games last year, due to injuries, in which he averaged 11.8 points per game, 7.8 rebounds per game and 1.8 blocks per game in 33.5 minutes.
"Gibson's numbers as a starter are significantly better than when he comes off the bench. The biggest difference between Gibson as a starter and coming off the bench is his plus-minus. When Gibson is a starter, his plus-minus is +6.7. But, when Gibson comes off the bench, his plus-minus is -0.6."
Gibson, too, was limited last season, and underwent ankle injury this summer.
A season ago, Noah averaged 30.6 minutes, while Gibson averaged 27.3. Whether starting or coming off the bench, the playing time doesn't figure to be dramatically different. But mixing up the lineups will remain a real option as the new head coach looks for ways to maximize the talent on the roster.
(h/t: Pippen Ain's Easy)