Shorthander, missed chances haunt Canadiens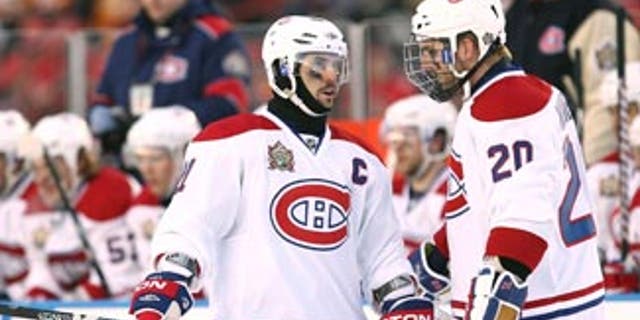 CALGARY -- When Canadiens forward Max Pacioretty drew an interference penalty on Flames defenseman Jay Bouwmeester midway through the second period, a prime opportunity presented itself for Montreal to change the momentum in the 2011 Tim Hortons NHL Heritage Classic.
Despite getting outshot 19-8 in the first period, the Canadiens gave up just one goal, and they came out buzzing in the second. By the time Bouwmeester went to the box at the 10:59 mark, Montreal had put 15 shots on Calgary goalie Miikka Kiprusoff in the second period.
A power-play score to answer the 5-on-3 goal Rene Bourque tallied in the first and the visitors might have been on their way to taking control of the game.
Instead, the Canadiens surrendered a couple prime scoring opportunities to Curtis Glencross. He was denied twice by Carey Price, but after the second stop Glencross regained control of the puck and fed Anton Babchuk, who was cutting in from the point. Babchuk, better known as a power-play specialist, ripped a shorthanded goal past Price at 12:44 to double the Flames' lead.
Barely two minutes later, Bourque broke loose on a breakaway and scored his second goal of the game. The Canadiens never recovered from that burst, suffering a 4-0 loss to the Flames in front of 41,022 at McMahon Stadium.
"We wanted to go out there and put a lot of pucks on the net and then you never know what's going to happen," said forward Tomas Plekanec, who led Montreal with eight shots. "We were able to put some pucks on the net, but nobody was around the net to finish it off or get the rebound."
All told, the Canadiens fired 21 shots on Kiprusoff in the second only to repeatedly come away empty.
"The second period, I thought we came out on full cylinders and created some scoring opportunities," said defenseman James Wisniewski, who played more than 20 minutes and blocked two shots while wearing a full face shield to protect facial lacerations suffered from taking a puck to the face Thursday against the Oilers. "It just broke our backs when they had that shorthanded goal."
Price, who had been brilliant up to that point, agreed that Babchuk's goal was a game-changer.
"We played really well that first half of that second period," said Price, who finished with 33 saves. "When they got that shorthanded goal, that was tough to swallow and they just kept going after that."
The Canadiens held a 10-7 shots advantage in a third period that featured far fewer scoring chances for both sides, as the Flames carefully protected their lead and eventually added to it when Alex Tanguay scored their second power-play goal of the game, capitalizing off a Roman Hamrlik hooking penalty.
Tripping penalties taken 33 seconds apart by defensemen Hal Gill and P.K. Subban led to the opening goal, with Bourque redirecting a Tanguay feed.
"We gave up a couple odd-man rushes and obviously the penalties killed us," captain Brian Gionta said.
The missed opportunities kept Montreal from claiming a victory that would have moved it to within two points of Boston for first place in the Northeast Division.
Still, several players said they took the Heritage Classic to be a positive experience.
"For sure, it's special," Gionta said. "Obviously, we would have liked a better outcome but (losing) doesn't take away from the specialness of the event."
Wisniewski credited the fans in attendance for making the game a memorable one for him -- despite the end result.
"It was great to see the fan support of both Calgary and Montreal in this game being welcoming to both teams. Hopefully we tried to put on a good show for them," he said.