Short Hops: Braves second basemen review/preview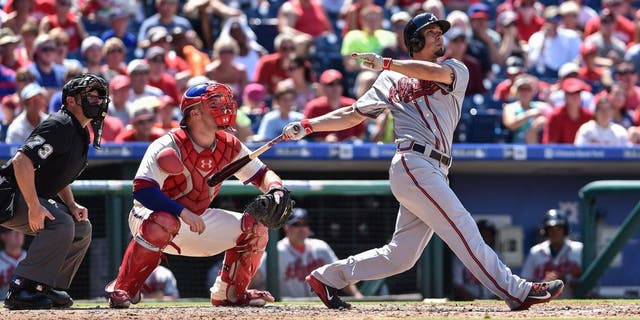 NEWYou can now listen to Fox News articles!
FOXSportsSouth.com's team of Braves writers are taking a look back at 2015, position by position, and breaking down what we know heading into what figures to be another busy offseason. The focus here, second base.
STATS THAT MATTER
20: Jace Peterson finished his rookie season with 20 weighted runs created after the All-Star break, the second-lowest mark among all qualified MLB second basemen.
1.1: Peterson wrapped up the '15 season with a 1.1 WAR, making him the first Braves second baseman to be worth more than one win above replacement since Dan Uggla's 19-homer 2012 season.
186: The Atlanta Braves led the majors with 186 total double plays this season. Though Peterson was not among MLB's top fielding second basemen, in terms of defensive runs saved, he and shortstop Andrelton Simmons were a formidable combo up the middle for most of the season.
THREE KEY QUESTIONS
1. Has Jace Peterson ended the franchise's revolving door at second base?
Elliot Johnson, Tyler Pastornicky, Phil Gosselin, Tommy La Stella, Ramiro Pena ... the list continues. Over the past two seasons, the Braves second-base spot has experienced constant turnover -- an overflow of near-replacement level production in the aftermath of Dan Uggla's late-career decline.
Atlanta attempted to plug this hole by handing Alberto Callaspo a stop-gap $3 million contract at last year's Winter Meetings, but it was the acquisition of unheralded rookie Jace Peterson -- a secondary piece in the Justin Upton trade, behind top prospect Max Fried -- that did the trick. For a while, at least.
Peterson stole the show in spring training and stormed out of the gate for the Braves, even filling the leadoff spot at times. By the time the All-Star break rolled around, his bat had cooled off, but he was still tied with outfielder Nick Markakis in WAR (0.9) and was holding his own in his first full season. The good times faded in the second half, though. The 25-year-old ended his campaign hitting .221/.293/.319 after the break, watching as fellow rookie Daniel Castro began stealing starts down the team's forgettable stretch.
So what does Peterson's quiet second half mean?
All told, he's the most promising second-base option the team has had since Uggla's bat was producing. He hasn't even reached arbitration and the physical tools are present and accounted for. And with the Braves sending former top prospect Jose Peraza to the Dodgers in the Hector Olivera trade, the farm system isn't exactly overflowing with challengers. Peterson is the Braves' best option at the moment, and there are bigger issues plaguing the team.
If the team elects to devote its money and attention elsewhere this offseason, leaving the job to Peterson (or another player within the organization if necessary) in the short term, it would be understandable. As the 2014 season can attest, it could be much worse.
2. How many below-average hitters can this lineup afford?
The Braves have been baseball's lowest-scoring team over the past two seasons, and, in terms of Peterson, it brings up the question of just how many defense-first players one team can start. The narrative for players like Andrelton Simmons and Christian Bethancourt follows a similar path -- the "whatever you get with the bat is gravy" plan -- so if Peterson's offense does not revert back to its first-half form, it calls into question whether the middle of this lineup can support another shaky bat. It couldn't in 2015. Simmons is already locked into the starting lineup and if Bethancourt finally seizes the catcher job, that could mean one-third of the lineup is devoted primarily to defense.
Peterson wrapped up his rookie year with an 80 weighted runs crated plus, with 100 wRC+ being league average. He did not hit for enough power to support a .314 on-base percentage, and his 12 steals did not line up with his minor-league rates or athleticism. Again, the physical tools are there for him to develop into a quality major-league player.
The Braves can probably afford to wait for another season to see if he starts to reach his potential, but if this middle infield doesn't start hitting -- Simmons is not entirely exempt here, either -- Atlanta will likely have to address the issue before moving into SunTrust Park.
3. Will the Braves be active in the free-agent market in search of a potential upgrade?
The need for more offensive production at second is not an exclusive problem. Similar to the catcher position, where Bethancourt's struggles have the team scouring a shallow market and weighing its options on 38-year-old veterans like A.J. Pierzynski or exploring trades for a possible solution, finding a quality bat at second can be difficult.
Still, there are options, depending on the Braves' willingness to spend.
Ben Zobrist, the 34-year-old utility guru coming off his worst season in seven years, is a top-of-the-market option in free agency, right alongside the likes of Daniel Murphy (Mets), Asdrubal Cabrera (Rays) and Howie Kendrick (Dodgers), each of whom could provide an upgrade offensively. Two-time former Braves utility man Kelly Johnson, who the Braves traded to the Mets along with Juan Uribe at the midseason deadline, is another option here. The team could also gamble on low-cost, underperforming former first-round picks like Gordon Beckham -- a local product -- or Stephen Drew.
Again, unless the team swings for a coveted free agent like Zobrist, it might be best-served to sit tight with Peterson and trust in his development.