Shirtless Hanley Ramirez interrupts interview to work out in the rain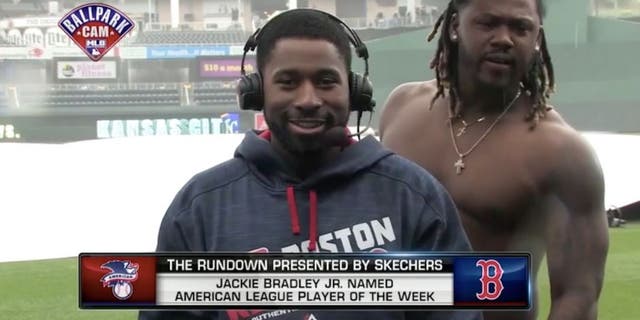 Hanley Ramirez has made a complete 180-degree turn from 2015 to now -- both on the field and off it. After being called lazy and struggling for much of last season, he's now one of the best hitters on a Red Sox team that has scored 15 more runs than any other team in baseball. And he's absolutely ripped.
He showed off his jacked upper-body during a videobomb of Jackie Bradley Jr.'s interview with MLB Network. It wasn't just a funny interruption -- it was a worthwhile one as he got in his workout in the rain.
Look at those fierce punches thrown by Ramirez. He looks like Rougned Odor out there.
This season, Ramirez is batting .319 with four home runs and 23 RBI. And he seems to be as happy as he has been in Boston.