Shero sees Neal as great boost for Pens' offense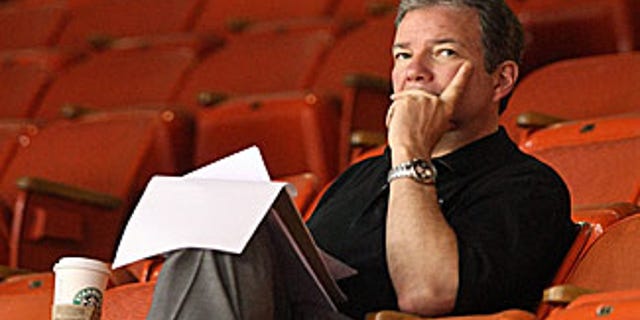 PITTSBURGH -- A few weeks ago, Pittsburgh Penguins general manager Ray Shero didn't anticipate making one of his customarily astute trade deadline deals -- the kind that landed him players such as Marian Hossa and Bill Guerin.
The Penguins had been at or near the top of the Eastern Conference standings since bouncing back from a slow start in October. Sidney Crosby was producing goals and points at a career-high pace. Marc-Andre Fleury was playing like a Vezina Trophy finalist in goal.
No, there was no reason to tinker with this, not with the Penguins up against the salary cap.
"This might have been the year we didn't do anything," Shero said.
But when Crosby was lost indefinitely with a concussion in early January, and Malkin went down for the season with a right knee injury in early February, Shero's priorities changed. With a pair of former NHL scoring champions sidelined, the Penguins were suddenly short on goal scorers.
So when Dallas Stars GM Joe Nieuwendyk made it known that 23-year-old forward James Neal was available, Shero quickly determined this was a player he wanted. Not only could Neal put up goals now for a team that hasn't scored more than three in its last 10 games, he figured to slip easily onto the Crosby or Malkin line once Pittsburgh's two big stars returned.
To the Penguins, the trade simply made too much sense -- not just for the present but for the future, especially since they would control Neal's rights through 2015.
"He's right near the top of the list of any power forward in the League," Shero said after dealing defenseman Alex Goligoski to Dallas for Neal and defenseman Matt Niskanen. "We have a good coaching staff, and the excitement for us is he's 23 and an unfinished product. What can he do with his career to turn from a 20-something goal scorer into something else? He certainly has the ability and talent."
Since Hossa chose not to re-sign with Pittsburgh after helping lead them to the 2008 Stanley Cup Final following a trade deadline deal, the Penguins have sought a gifted scorer to skate alongside Crosby. They won the Stanley Cup the following season even without one.
"I think I've read a few times that we've got to add a winger," Shero said.
Now, maybe the Penguins have found him. The only question is when Crosby, who is out indefinitely, can return and find out if the 6-foot-2, 208-pound Neal is a good fit for him.
"It's hard to specifically look for a winger for a particular player," Shero said. "I figure I'm not that smart. We'll get a few good players, throw them on the ice and figure it out."
Crosby's teammates, who learned of the trade hours before a 1-0 loss Monday night to the Washington Capitals, already are eager to find out what Neal can do for them. Neal has 21 goals in 59 games despite getting only one in his last 11 games; he had 27 goals last season and 24 the season before that.
"He's a guy with a great, big shot who can put pucks in the net," Penguins forward Mike Rupp said.
"It was kind of a shock," defenseman Zbynek Michalek said. "Goose [Goligoski] was a good guy, a good player, but that's what happens in hockey. Neal is a big guy who can score goals and he plays hard. Niskanen is a solid d-man and is definitely going to help this team."
Coach Dan Bylsma said the Penguins' interest in Neal developed before injuries began to decimate one of the NHL's best teams. Chris Kunitz also has been out since Feb. 6 with a lower-body injury.
"He's an offensive zone presence, a physical guy with an overpowering shot, a guy who's gotten 55 points in this League," Bylsma said. "He's been on our radar for a long time."
Parting with Goligoski wasn't easy for Bylsma, who first coached him at Wilkes-Barre/Scranton of the American Hockey League. The two shifted from the AHL to the NHL about the same time and, Bylsma said, "I'll always be watching where he goes and how he does because I've grown up with him the last few years."
The 25-year-old Goligoski has 9 goals and 31 points in 60 games, but Kris Letang's rapid development into an All-Star allowed Pittsburgh to deal one of its top-five defensemen. Goligoski will be entering the final season on his contract.
"You've got to give up good players to get good players," forward Jordan Staal said. "From what Neal's done in Dallas, he knows how to score goals and find those openings. He's definitely a great addition."
Penguins forward Maxime Talbot likes how Shero sent a message -- intended or not -- that Pittsburgh isn't giving up on this season even if Crosby isn't healthy enough to return.
"It's a sign of confidence for us," Talbot said.
"Our goal is to get to the playoffs and be a hard team to play that is going to give some teams a problem," Shero said.