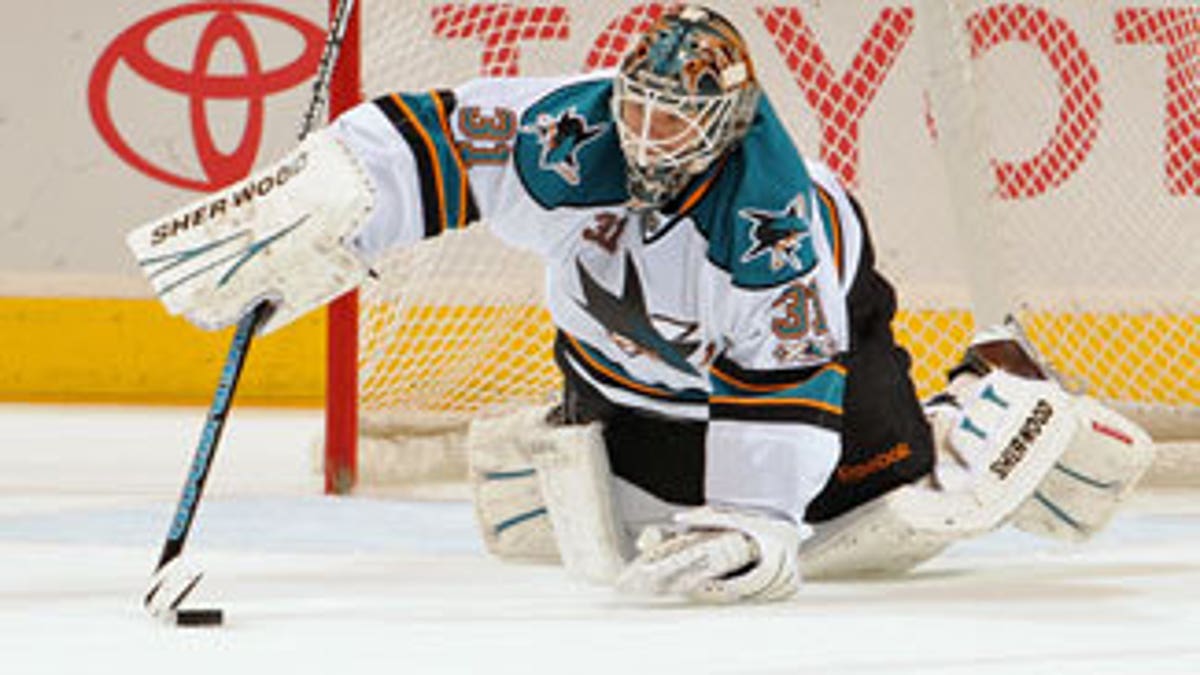 SAN JOSE, Calif. – San Jose Sharks coach Todd McLellan put a quick end Sunday to a potential goaltender controversy.
Less than 24 hours after pulling Antti Niemi for backup Antero Niittymaki early in the first period of a 3-1 Game 5 loss to the Kings, McLellan said Niemi will be in net for Game 6 Monday night in Los Angeles.
"Well, he is our guy," McLellan said. "He's had a bounce-back game already, played extremely well the night after getting hooked. I didn't think we did a lot to help him. I think we addressed that yesterday after the game. Goal 1, double deflection. Goal 2, turnover, he makes the initial save. Goal 3, probably could have had. But he's ready to go back in and we have a ton of confidence in him."
Niemi gave up three goals in less than nine minutes on just four Kings shots Saturday at HP Pavilion earning an early exit. When he came to work Sunday, Niemi watched the "short" videotape of that disaster.
What did he learn?
"Just be a little bit more challenging when they've got a chance to shoot," Niemi said after practice. "I've got to stay on top of the crease when they get the puck. I think that's pretty much all I can take from the game."
McLellan also gave Niemi the hook early in the second period of Game 3 after the Kings took a 4-0 lead. Niittymaki allowed just one goal the rest of the way, and the Sharks rallied for a miraculous 6-5 win in overtime.
But in Game 4, Niemi was back in goal, and the Sharks beat Los Angeles 6-3. Niemi established a track record of following bad games with gems last year in the playoffs for the Chicago Blackhawks during their run to a Stanley Cup championship. In the first round against Nashville, he bounced back after 4-1 losses in Games 1 and 3 with shutouts in Games 2 and 4.
"Any time he's had a bad game he's come back," McLellan said. "The thing with him is he hasn't had two within a five-game span in a long time. He'll need to polish it up, just like the rest of us do."
Niemi's save percentage of .855 ranked last among starting goaltenders in the playoffs through Saturday's game. He has allowed 16 goals on 110 shots. Niittymaki's save percentage, meanwhile, is .967. He has stopped all but just one of the 30 shots he has faced.
Despite those numbers, McLellan said the decision to stick with Niemi was easy.
"We're not wavering," McLellan said. "We have a ton of confidence. This guy's proven it last year. He's proven it down the stretch. We don't expect him to be perfect. We expect him to be a little bit better, and I think he expects that of himself."
Niemi said he's not sure how much his history of bounce-back games will help him Monday night.
"Maybe a little bit, but you can't really rely on that," he said. "You've just got to focus on the game. … "It's always a new time when you've got to come back. It takes just careful preparation and getting ready and not thinking about it too much."
The entire Sharks team has plenty to focus on going into Game 6. Turnovers killed them in the first period Saturday, and their power play didn't deliver a single goal on four chances. The Sharks are now 2-for-20 for the series.
Then there's the matter of slow starts. San Jose has scored exactly one first-period goal, which came less than a minute into Game 1, and have allowed eight first-period goals.
"I can tell you it's not a lack of preparation or want or effort," Sharks defenseman Dan Boyle said. "I'm seeing all those things."
The Sharks certainly had enough shots Saturday night, but Kings goalie Jonathan Quick stopped 51 of the 52 shots he faced.
Sharks captain Joe Thornton was asked if he had spent time studying videotape of Quick to find ways to break through.
"Well, we scored six the previous two games, so we solved the puzzle before," Thornton said. "He got hot, and Game 2 he got hot. You just got to ride the wave and be ready and be prepared to score tomorrow."