Sharks know they can win in L.A.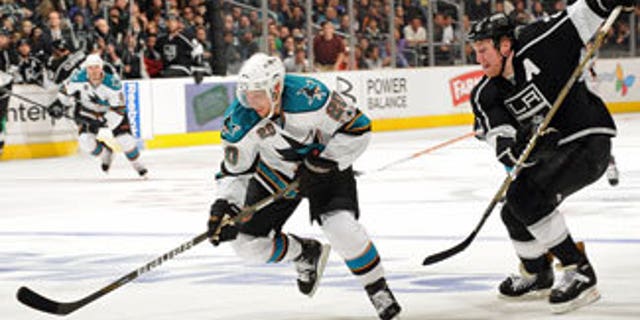 SAN JOSE, Calif. – The San Jose Sharks had another meltdown on home ice Saturday night and made another in-game switch at goaltender.
So instead of celebrating a series-clinching win over the Los Angeles Kings, the Sharks are preparing for Game 6 Monday night and facing a brewing goaltender controversy after suffering a 3-1 loss at HP Pavilion.
The good news for the Sharks? They get to play their next game in Los Angeles, where they've won two straight, scoring six goals each time.
"It's the playoffs. Anything can happen," Sharks captain Joe Thornton said after the loss. "We realize this. We realize it's going to be a long, hard series. We expected they were going to try and come quick. We played well for 60, but just not good enough and we'll have to play better next game.
"The upside is we play well in L.A. We played well in L.A. through Games 3 and 4, and now we just got to go win down there."
The Sharks suffered a humiliating 4-0 loss to the Kings in Game 2 at HP Pavilion, when they were booed off the ice. This time they spotted Los Angeles a quick 3-0 lead, committing a flurry of turnovers that the Kings capitalized on.
Wayne Simmonds, Kyle Clifford and Dustin Penner each scored a goal in the first 8:42 of the opening period against Sharks goaltender Antti Niemi. That was it for Niemi, who gave up those three goals on just four shots. He gave way to backup Antero Niittymaki, who held the Kings scoreless the rest of the way.
Niemi was also pulled from Game 3 for Niittymaki in Los Angeles after the Kings took a 4-0 lead early in the second period. The Sharks rallied to score five goals in the second and went on to win 6-5 in overtime that night, but Niemi was back in goal for Game 4.
So, does Sharks coach Todd McLellan have a decision to make at goaltender for Game 6?
"We have one every night to make," McLellan said. "We feel that we have two quality guys. Again, you look at the goals. The first one was a heck of a deflection. … The second one he makes a great save on the 2-on-1 that shouldn't exist. You turn the puck over and the rebound goes in the net. So I'm not sure you finger the goaltender for that one. And then the third one he's fairly deep in his net, and I think he knows that, but at that point we needed to change something."
Sharks forward Ryane Clowe said it wouldn't surprise him if Niemi started Game 6.
"On the other hand, Niitty, you've got to give the guy credit. I mean, coming in cold again and making some great saves," Clowe gushed. "Too bad we couldn't get a couple for him. He made some game-saving (saves) to give us an opportunity to stay in it."
Kings coach Terry Murray never considered making a change at goaltender, even after Jonathan Quick gave up those 12 goals in two losses in Los Angeles. Quick rewarded his coach by making 51 saves on Saturday night. The Sharks weren't surprised to see Quick respond the way he did.
"He's an elite goalie so nights are going to happen like that," Sharks forward Logan Couture said. "If we can get 50 on him or 40 on him in L.A., I think it will be a little different story. We knew he was going to bounce back. He's a great goalie for a reason."
Patrick Marleau scored the only Sharks goal, hammering a rebound past Quick to make it 3-1 at 5:43 of the second, but that was their last goal, although far from their last chance. The Sharks had three of their four power plays after that, but the Kings killed the final three, just like they did the first one.
"He made a lot of good saves," Sharks defenseman Dan Boyle said. "What did we have, 52 shots? Obviously not all quality chances, but we had a lot of looks. Obviously a handful of mistakes early and three pucks were in our net. Other than that, you can't question the work ethic or the heart. Everybody was trying hard. Just stupid mental errors early."