Sharks know home ice is no guarantee of victory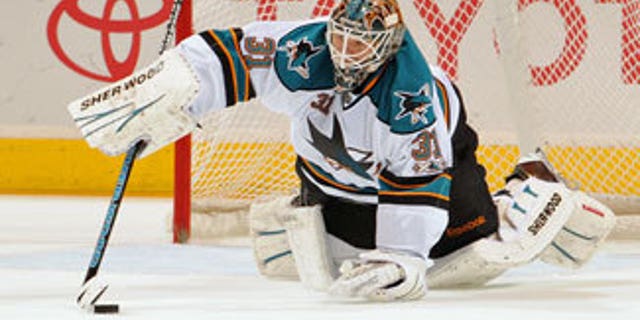 SAN JOSE, Calif. -- If the San Jose Sharks needed another reminder that this has turned into the year of home-ice disadvantage in the Stanley Cup Playoffs, they got one Saturday after their morning skate at HP Pavilion.
When the Sharks returned to their dressing room, the televisions were tuned to Game 5 of the Pittsburgh-Tampa Bay series. The Penguins were already down 5-0 and on their way to an 8-2 home loss, as their series lead was sliced to 3-2.
Including Saturday afternoon's games, visiting teams have won 10 of the past 12 playoff games. The Sharks are coming off two straight road wins in Los Angeles. And in Game 2 at HP, the Kings embarrassed the Sharks 4-0.
The Sharks own a 3-1 series lead, but they know all too well that playing at home is no guarantee that they'll close out this series tonight.
"If you slide into that zone, that feel-good zone on home ice, like we did in Game 2, you'll pay the price for it," Sharks coach Todd McLellan said. "I keep saying lesson learned or lesson taught. It's going to come down to that again tonight.
"We're well aware of how poorly we played in Game 2. We keep reminding them. We'd like to see us a lot more focused, a better effort here on home ice."
The Sharks needed to work overtime in Game 1 to beat the Kings 3-2 at HP. Then they got booed off the home ice after their Game 2 disaster. But when they hit the road, the Sharks overcame a 4-0 deficit to beat the Kings 6-5 in OT in Game 3 then blasted Los Angeles 6-3.
Sharks captain Joe Thornton said home teams face two potential pitfalls that need to be avoided.
"You can get too excited or you just expect it's just going to happen," Thornton said. "So there's both sides of that coin. Hopefully we're excited, we're smart and we win tonight."
"Teams play differently sometimes on the road," Sharks center Joe Pavelski said. "It's fun. No matter where you're playing, the atmosphere's fun. It's an exciting time to play and you're into the game. Teams show up, and that's a good thing for us to realize, that they're going to show up tonight and we need to have our game."
McLellan said his team plays better when it feels "uncomfortable." He hopes the fact that the Penguins' got blown out when they had a chance to clinch adds to the Sharks' discomfort.
"I think we're fortunate right now in watching Tampa and Pittsburgh play because it's pretty evident that one team was ready to go and the other wasn't," McLellan said. "So maybe we'll be forewarned because of somebody else's demise and we can apply it appropriately tonight."
History, for what it's worth, is now solidly in the Sharks' favor in this series. They've built 3-1 series leads seven times and won all seven. They clinched five of those in Game 5 but didn't clinch until Game 7 twice – the 2000 quarterfinals against St. Louis and the 2004 semifinals against Colorado.
The Kings have faced 3-1 series deficits 10 times before and prevailed just once, beating Edmonton in 1989 in the Smythe Division.
After allowing two first-period power play goals in Game 2, the Sharks have killed 14 straight penalties. They've gone from ranking last to seventh in the postseason at 84.2 percent, killing 16 of 19 penalties.
"A few small adjustments. They have a good plan." McLellan said of the Kings. "They've got two guys on the top who can shoot it very well. They've been able to gain some possession in our zone. But our penalty killers have done a really good job of being in lanes, blocking shots, getting the clears when we've needed them."
Sharks defenseman Marc-Edouard Vlasic has been playing with a heavy heart after the death of his paternal grandfather, Ivan Vlasic, on Wednesday in Montreal at the age of 84.
"He was always at my soccer games, hockey games," Vlasic said. "Even when I made the NHL he was still coaching me, giving me grades. He was always around. All my brothers, he came to every single game, every single soccer game, hockey game. So, a big part of our lives, my life, and it's sad to see him go."