Sharks GM Wilson discusses changes on NHL Hour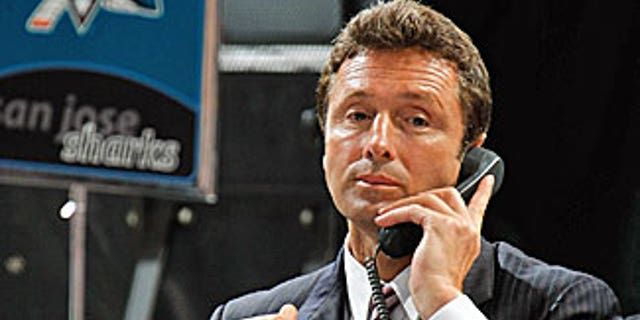 Seven years into his tenure as general manager of the San Jose Sharks and Doug Wilson has yet to miss the Stanley Cup Playoffs or finish any lower than second in the Pacific Division.
Early in the season there were times when it appeared the Sharks might get swallowed up in the maelstrom that became the Western Conference playoff race, but with a 26-5-4 stretch over their past 35 games they've clinched a fourth consecutive Pacific crown and will open the first round as either the second or third seed, depending on how the weekend's action plays out.
Appearing on Thursday's "NHL Hour With Commissioner Gary Bettman," Wilson touched on his approach coming into this season after the Sharks made a run to the Western Conference Finals in 2010 only to get swept by the eventual champion Blackhawks.
"We built a very successful year last year. We played well during the regular season. We had two very good playoff rounds, beating Colorado and a really strong Detroit team," Wilson said. "Chicago beat us. It was a very good series. It was a short series but the games were very close, and I think we learned from that and wanted to come back this year.
"We made some changes. We changed our goaltending with both [Antero] Niittymaki and [Antti] Niemi coming in. Rob Blake retired, but I think a lot of his impact on some of our younger players has certainly shone through. But I think the best thing that happened to us, right around Jan. 17, we lost six games in a row and we made a couple changes, but none of the players and none of the coaches blamed anybody else or pointed fingers. They all basically said, 'Look, we've got to find a solution and get better.' And since that point I think we've played our best hockey."
It's been a team effort in compiling the Sharks' current 47-24-9 record, with Niemi posting 34 wins and six shutouts in his first season in teal and Patrick Marleau leading the offensive charge with 37 goals and 71 points. Two other players who have been key to the team's success are veteran center Joe Thornton and Calder Trophy candidate Logan Couture.
Thornton has 20 goals and 68 points, leaving him one shy of 1,000 for his career.
"Since he's come to this hockey team he's one of the great players in this game," Wilson said. "Here's a kid that I knew when I watched him win a World Junior, then he won a World Cup, he's won a gold medal in the Olympics. And he loves the challenge of trying to get better every year, and the pressure and expectations. I just think he's getting better. He is playing his best hockey."
Couture's 31 goals are second among rookies, and he's sixth on the Sharks in scoring with 54 points in his first full NHL season.
"We're looking for guys who have character and hockey IQ and hockey sense," said Wilson, who made Couture his top pick in the 2007 Entry Draft. "Logan has really played well. We left him down in the American Hockey League last year a little longer to ripen and be one of the best players down there. You could argue he's been our best player from the beginning of the year 'til now.
"I'm an old defenseman -- I could probably play with him now because the way he comes back and supports you and gets available; he's an easy guy to play with. There's some other really good rookies in the League this year but I think Logan, as far as playing in all areas of the rink, is probably the top of the list."
Of course, it takes more to win a championship than just players, which is why Wilson's selection of Todd McLellan as coach heading into the 2008-09 season was a crucial one. McLellan has already won 151 games, one away from tying Mike Keenan's record in his first three seasons coaching the Flyers in the mid-1980s.
"I had never met Todd before I interviewed him and we'd gone through the process of interviewing 21 other coaches or people for our coaching staff," Wilson said. "The path that he had taken, coaching in Swift Current, having success there, winning in the American Hockey League with Minnesota's farm team and then working in the great environment in Detroit for people I have tremendous respect for -- Kenny Holland, Steve Yzerman, just to name a couple.
"When I met him, he was a guy who understood what the expectations would be. He understood bringing young players in and working with them. The thing that really stood out was, when I watched him, players like Nick Lidstrom, Stevie Yzerman, [Henrik] Zetterberg and [Pavel] Datsyuk would naturally gravitate toward him … Chris Chelios, who was there at time because of his hockey IQ. And the one thing, players can read through you very quickly whether you know what you're talking about or you don't.
"And then when we brought him in and interviewed him, I think within five minutes we knew he was going to be the coach that we want for our team. He's built great relationships with the Patty Marleaus, the Joe Thorntons, just to name a few, and we think he's not just one of the best young coaches in the League but one of the top coaches, and he's got a tremendous staff, too, that he hand-picked."
Wilson also spoke about the great fan support San Jose has received over the years and the way hockey has grown in California. The Sharks and Los Angeles Kings have already punched their playoff tickets and the Anaheim Ducks could join them and perhaps even set up an all-California first-round playoff series.
"I think it's great. You take a look at the number of young kids who are getting drafted out of California, too, these are now becoming and have been for many years very good hockey markets," Wilson said. "The rivalry in the playoffs goes to the next level when you play somebody in a playoff round. L.A.'s got a very good hockey team trending up, Anaheim's won a Cup, our team is a good team. When you look at the Western Conference there's no easy games and some of the California teams are at the top of the list there."