Shaquille O'Neal shares 'dance battle' video with Rob Gronkowski on Instagram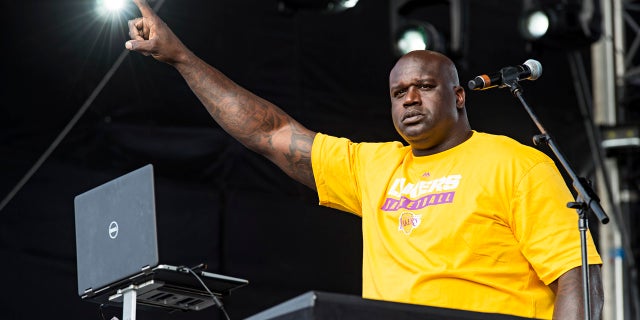 Who do you think was the the champion?
That's the question former NBA star Shaquille O'Neal posed on Instagram Saturday, when he shared a video showing New England Patriots player Rob Gronkowski and him cutting a rug in the Magic City.
A shirtless Gronk could be seen dancing in the clip -- with O'Neal and Denver Broncos player Von Miller on stage taking in the action.
Eventually, O'Neal started dancing -- and faced off against the 28-year-old NFL tight end.
"Shaq vs @gronk dance battle you tell me who won," O'Neal, 46, wrote.
WARNING: Videos contain profanity
The viral video already has racked up more than 1.5 million views.
O'Neal also held Gronkowski on his shoulders at one point during the party, the videos revealed.
The get-down unfolded at Shaq's House Party in Miami, which was hosting Miami Music Week through Sunday.
Miller retweeted a news package showing all three men at the bash.
"Fun night with the guys," he wrote.
SISTER JEAN SAYS THERE MUST BE 'LIMITATIONS' TO SPEND TIME WITH CHARLES BARKLEY