Shane Victorino mulling options as Cubs prepare to send him to minors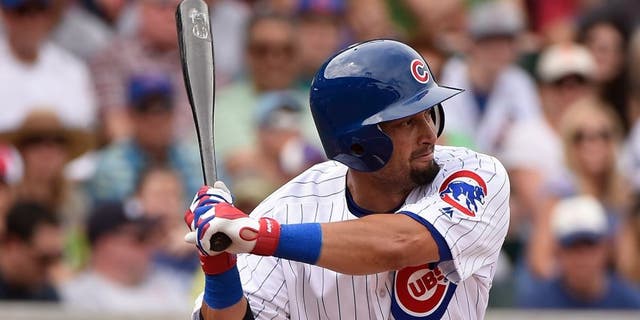 Shane Victorino wants one thing clear --€" he does not want to be a distraction or cause a problem for the Cubs in any way. All he wants is a chance to extend his 13-year career.
Cubs manager Joe Maddon told reporters on Thursday that Victorino would not be on the team's Opening Day roster. The Cubs want him to continue rehabilitating his left calf at their spring-training facility in Mesa, Ariz., then report to Triple A, major-league sources confirmed.
Victorino, 35, told FOX Sports on Thursday night that he is mulling his options. If he chooses to stay with the Cubs, the team likely would release him to avoid paying him a $100,000 retention bonus, then re-sign him to another minor-league deal.
"We're in the beginning stages of trying to recreate a scenario to focus on getting Shane healthy," said Victorino's agent, John Boggs.
Victorino has appeared in only 101 games the past two seasons --€" he underwent back surgery in Aug. 2014 and suffered calf and hamstring injuries in '15. However, he was excited about his improved health during the offseason, and expected to resume switch-hitting for the first time since Aug. 2013.
The calf injury disrupted his plans; Victorino has made only 10 plate appearances this spring. The Cubs want him to go through the equivalent of a full spring training at Triple A, sources said. They then would to need to create a spot on their 40-man roster to add him to their major-league club.
"I just still want to play the game I love," Victorino said. "We all want to do that forever, but this time I really felt like I had made a turn for the better this offseason, going back to switch-hitting.
"I want to be nothing but a plus and not be a hassle or take any attention from the big club. Before I prove it to anyone else, I need to prove to myself that I am the player everyone thinks I am. I am my hardest critic, so if I feel like I am done, no one would need to make that decision for me."
Victorino spent last season with the Red Sox and Angels, batting .230 with a .601 OPS. His career numbers are far more impressive --€" a .275 batting average, .765 OPS and 231 stolen bases in 277 attempts (83 percent).
"I respect tremendously what they have created here and the talent they have in that locker room," Victorino said of the Cubs. "All I want is for my experience to help in any way. But there is nothing to discuss if I am not healthy."