Shady Brady? Damning 'Deflategate' texts could force NFL to bench star
Super Bowl MVP Tom Brady could face a four-game suspension and his New England Patriots could be sanctioned as well, following a damning report by the NFL that found the star quarterback likely knew about the scandal known as "Deflategate," according to one former league insider.
Brady, one of the league's most recognizable players and a likely future Hall of Famer, won his fourth Super Bowl ring in February, but the pre-game hoopla was marred as he sought to deflect claims he had ordered game balls to be deflated against league rules. Critics say the deflated footballs, discovered during the Patriots' AFC championship game against the Indianapolis Colts, allowed the quarterback to get a better grip. A 243-page report commissioned by the league and released Wednesday determined that Brady was "at least generally aware" that team employees were doctoring the footballs.
"The question is: Did these deflated footballs affect the integrity of the game? And the answer is: Yes they did."
"The question is: Did these deflated footballs affect the integrity of the game?" said David Cornwell, a former NFL attorney who specializes in representing athletes facing disciplinary measures. "And the answer is: Yes, they did."
Cornwell, who does not represent Brady, predicted the star will be suspended between two and four games and the team will likely face a fine. He said there's also a possibility that Brady's actions could lead to the team losing future draft picks.
At a pre-scheduled speaking engagement in Salem, Mass. Thursday night, Brady declined to discuss what he thought of the NFL findings, but said the scandal had not detracted from his Super Bowl title.
"I don't really have any reaction," he said. "It has only been 30 hours, I've not had much time to digest it. When I do I will be sure to let you know how I feel about it. And everybody else."
Brady said he will address things more once things play out and he is more comfortable.
"There is a process going forward and I am involved in this process," he said. Asked whether public backlash is bothering him, Brady said he accepts his role as a public figure and has people who support him and help him get through it.
"As a human you care about what people think. I think also as a public figure you learn not everyone is going to like you," he said. "Good, bad or indifferent there are a lot of people who don't like Tom Brady, and I am OK with that."
Brady's agent, Don Yee, called the report, by veteran attorney Ted Wells, a hit job and said it "reached a conclusion first, and then determined so-called facts later." He said the report left out much of Brady's testimony.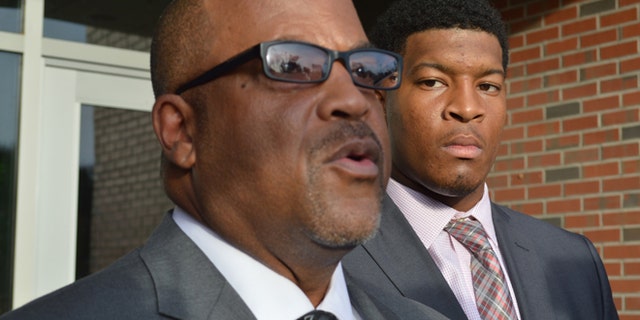 It is the second time in the last decade that substantiated allegations of cheating by the Patriots have put pressure on the league to punish the team. In the scandal known as "Spygate," the Patriots were caught illegally videotaping the Jets' defensive signals during the first game of the 2007 season. The team was fined $750,000 and docked a first-round draft pick.
NFL Commissioner Roger Goodell, who has been criticized for not being harsh enough on players, including Ray Rice, who was videotaped knocking out his fiancee in an Atlantic City hotel elevator last year, has vowed to crack down on wrongdoing in the league. Cornwell said Goodell, who is known to be friends with Patriots owner Robert Kraft, will have to prove he is impartial, and added that Kraft will expect as much -- even though the team has already criticized the report as not having "any incontrovertible or hard evidence of deliberate deflation of footballs."
"Brady's refusal to provide us with his own emails, text messages and phone records on relevant topics, in response to our narrowly tailored requests, limited the evidence available for our review and analysis," the report said.
The report does stop short of finding as fact that the balls were deliberately deflated on Brady's orders. Although Brady was uncooperative with investigators, refusing to turn over his cellphone, two team employees did. Text messages between John Jastremski, a team equipment assistant, and locker room attendant Jim McNally, who appears to call himself the "deflator," left little room for doubt that footballs were purposely doctored for Brady's benefit.
One October exchange between the two seemed to imply that their anger at Brady prompted them to refuse to deflate footballs before a game.
Jastremski: Can't wait to give you your needle this week :)
McNally: F--k Tom….make sure the pump is attached to the needle…..fu-kin watermelons coming
Jastremski: So angry
McNally: The only thing deflating sun..is his passing rating
The report also points to an exchange in January that appears to show McNally being rewarded by the quarterback with sneakers and autographed footballs.
Brady and the Patriots denied any knowledge about football tampering. The star quarterback held a press conference in January to separate himself from the controversy, but it proved to have an opposite effect.
The normally cool quarterback appeared tense and deliberate with his words. The New York Times reported that, "he gripped the lectern so hard it looked as if he was trying to squeeze the life out of it. Then quickly let go, as if noticing that his death grip betrayed his nerves."
One reporter asked him point blank: "Is Tom Brady a cheater?"
"I don't believe so," Brady responded, with a chuckle.
Head coach Bill Belichick offered little cover for Brady at the time, with one USA Today headline that read, "Bill Belichick hung Tom Brady out to dry."
"Tom's personal preference on his footballs are something he can talk about in much better detail than I can possibly provide," he said.
The scandal captivated much of the country and even led to President Obama taking a shot at the team when the Super Bowl champions visited the White House last month, a trip Brady skipped.
"I usually tell a bunch of jokes at these events, but with the Patriots in town, I was worried that 11 out of 12 of them would fall flat," Obama joked.
It remains to be seen what effect the scandal and the new report will have on the legacy of Brady, one of the game's most prolific passers of all time and one of just three quarterbacks to lead a team to four Super Bowl championships. The Associated Press called him "Teflon Tom," in reference to scandals that entangle the quarterback that never seemed to stick, from the team's illegal videotaping to "an out-of-wedlock child with the actress he jilted before marrying the world's richest supermodel."
"What I see is that he goes from being 'Tom Perfect' to 'Tom Not-So-Perfect' in some people's eyes," Marc Ganis, president of sports business consulting firm SportsCorp, said.
The Associated Press contributed to this report