Seven seeds still up for grabs in wild Western race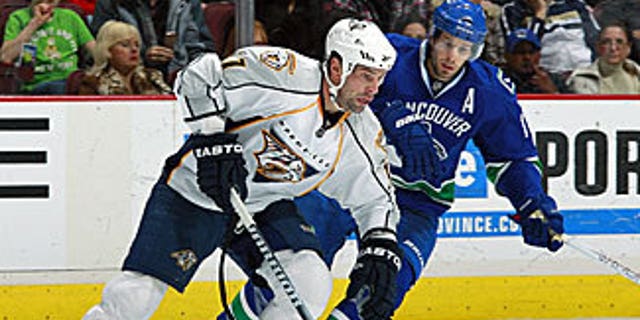 Who will be in the playoffs from the Western Conference became a lot clearer Friday night, but first-round matchups are far from settled heading into the penultimate day of the NHL's regular season.
Nashville, Phoenix and Anaheim confirmed their playoff reservations Friday, so seven of the eight spots are filled. Vancouver is set as the No. 1 seed, but each of the other seven places remained to be determined.
San Jose and Detroit will finish second or third, but trying to determine which teams will end up fourth through eighth is where it gets a little more complicated. The Sharks can wrap up the No. 2 seed with a win Saturday against Phoenix. A loss would give the Red Wings an opening in their contest Sunday against Chicago.
Nashville controls its destiny in a four-team battle for the No. 4 seed and home-ice advantage in the first round of the playoffs. The Predators will finish fourth with a non-shootout win against St. Louis, a shootout win combined with a non-regulation/overtime win or loss by Phoenix, or a point against the Blues combined by a point or less earned by the Coyotes.
Both Nashville and Phoenix can secure a place in the No. 4 vs. No. 5 matchup (thus avoiding one of the three division winners) by earning a point Saturday. Only if they both lose in regulation does that bring Los Angeles, Anaheim and Chicago into play for a top-five seed.
The winner of the Anaheim-Los Angeles game will finish at least sixth, and could up fourth if both Nashville and Phoenix lose in regulation. The flip side is the loser of the Ducks-Kings clash could finish eighth and have a date with Vancouver if Chicago beats Detroit.
Chicago and Dallas are idle Saturday, but they will both be in action Sunday to decide their fate. The Blackhawks could still climb as high as fifth with a win and regulation losses Saturday by Nashville and Phoenix. They need at least a point against the Red Wings to clinch a playoff berth.
The Stars need the Blackhawks to lose in regulation and they must win before a shootout against Minnesota to earn a postseason spot. Dallas can only be the eighth seed, but the Stars will gladly take a trip to Vancouver and the daunting task of facing the Presidents' Trophy winner when the alternative is the end of the season.