Setting the stage(s): New NASCAR race format ratchets up intensity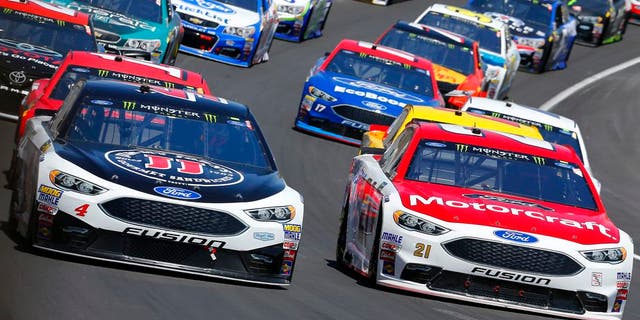 NEWYou can now listen to Fox News articles!
Seven races into this Monster Energy NASCAR Cup Series season, one thing is certain.
Stage points and stage wins are so meaningful under NASCARs new race format that drivers are starting to ramp up the intensity when it comes time to put the pedal to the metal and go for them.
You saw it on the short track at Martinsville, when Kyle Busch and Ricky Stenhouse Jr. tangled at the end of a stage and Stenhouse was unapologetic about doing what he figured he needed to do to finish in the top 10 and grab said points.
Asked recently if the new system had him and his fellow Cup drivers doing more math inside their cars, Stenhouse was quick to answer a resounding yes.
It probably showed most (at Martinsville) with Kyle and myself and a couple of other cars in front of us racing so hard at the end of a stage, Stenhouse said.
Ive seen that from the car. I feel like we always race as hard as we can, but when you know the caution is coming out whether youre just trying to get another spot or youre trying to go from 11th to 10th or 10th to eighth to try to get more points I feel like the system is working really well.
You saw it again at Texas, where Ryan Blaney took solace in winning the first two stages after a late pit-road mishap forced him to settle for a disappointing 12th-place finish in the race overall.
You know, that was 20 points we gained right there, Blaney said. It's just really, really helpful for your kind of longterm outlook on things.
To recap, drivers running first through 10th at the end of each of the first two stages in the three-segment races receive stage bonus points for the regular season, starting with 10 points for first place, nine points for second place, down to one point for 10th place. Additionally, the driver who wins a stage receives one playoff point to carry into the postseason, should that driver qualify.
Those all can add up quickly over the course of a season.
So for someone like Stenhouse or Blaney both of whom hope to win their first career race, but may be trying to claim one of NASCARs 16 playoff berths via regular-season points every stage point is important.
For drivers who already have won races, its all about winning stages so they can carry more bonus points into the playoffs for which theyve already qualified.
The way I put it to somebody at the shop, one point or two points for me in a stage is as important as a guy like Kyle winning a stage, Stenhouse said. The guys that are more comfortable in points or already have a win, those stage point wins are really all that matters to them because those are the only points that carry over into the playoffs for them.
I think as you go, youll still have cars that are dominant and winning stages. But things like Carl (Edwards) moving Kyle (Busch) for the race win last year at Richmond? I think youll start to see that for stage wins because thats what carries you through the playoffs. Thats where the importance of those stage wins comes in.
The winner of a race receives five bonus points toward the postseason (this is up from three last year), plus postseason eligibility. If a driver leads at the end of both Stage 1 and Stage 2, and then wins the race, then he or she would receive seven bonus points to carry into the postseason for that single race.
All of which is having a cumulative effect on the intensity with which drivers are approaching the end of stages, according to Stenhouse.
Not many people out there are making it easy to pass. Theyre putting up a fight which is good. Thats how racing should be, said the driver of the No. 17 Roush Fenway Racing Ford. I know the old-school days of waving people by when theyre faster is what you used to do but right now, in this day and age, its pretty important to race as hard as you can. Even when your car is not great, you try to figure out a way to make it halfway decent to keep the guy behind you.
You also try to figure out a way to keep getting your car better throughout the weekend and the race. Not that teams didnt do that before, but now the pressure to do so within practices, and stages, appears to have increased.
In addition, it puts a premium on qualifying well and starting up front from the drop of the green flag.
If you would have asked me (during practice) if we would have been so good at the first two stages (at Texas), I wouldn't have thought so, said Blaney, who started second, on the outside of the front row, for the race. And that definitely means a lot.It teaches us a lot what we need to do as far as changes from practice to race.It definitely helped being up front, as well.
Different strategies also come into play now as never before again, as evidenced in the OReilly Auto Parts 500 at Texas.
Once we got a caution before the end of the second segment, a lot of guys pitted and there were a lot of mixed strategies, Blaney said. And we decided to try to win the segment, which I thought was important to get those points and an extra bonus point.
Stenhouse said for him to make his first NASCAR playoffs, its likely to be because of him raking in a substantial amount of stage points.
Right now what were focused on for us, to make sure we have an opportunity of getting into the playoffs, is stage points, Stenhouse said. Weve been able to get a couple here and there throughout the year so far, but we need to be more consistent at that.
Stenhouse added that he sees the ends of stages in upcoming races only getting crazier.
I feel like its ramping up more and more, he said. Its important, and you can feel the urgency out on the track. I think its playing out better than we thought it would."
Michael Shroyer-USA TODAY Sports | Michael Thomas Shroyer