Serie A needs AC Milan and Inter to put the league back on the map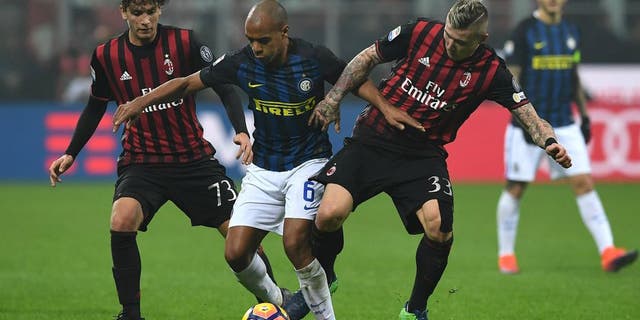 For decades, AC Milan against Inter Milan was one of the highlights of the entire footballing world.
The two Milan clubs are two of the most historically successful teams in history, traditionally amongst the cream of the crop in one of Europe's most prestigious leagues. Each year's meeting used to be highly anticipated around Serie A and the world, and it usually camewith title or trophy implications at stake.
That's just not the case anymore.
In the 90s, when the league was strongest, Juventus, Milan, Inter, Roma, Lazio, Parma and Fiorentina all attracted some of the best players in the world. They pushed each other for trophies, and competed at the highest level in Europe on a regular basis, with Milan and Juventus leading the way on that front.
Now, it's just Juventus at the top by themselves, andboth Milan sides are floundering. Neither of them have qualified for Champions League since the 2013/14 season (when Milan were knocked out in the round of 16), and in recent years they've seen traditionally less successful teams like Napoli, Roma and even minnows Sassuolo go on to finish ahead of them in Serie A.
Without either of the Milan sides in play, it's been left up to Juventus to flythe flag for Italian soccer in Europe. As well as the Bianconeri have done in continental competition in recent years, charging ahead on their own, Serie A as a whole needs more than just one team competing at the highest level to reviveItaly's reputation as a marquee league. It can't just be Juventus, and despite the relative recent reawakening of Napoli and Roma, it's the Milan clubs with the reach, resources and history to truly help Juve bring prestige back to the league.
Inter Milan have qualified for the Europa League in three of the last five seasons, but their recent failures have extended to that competition as well. They've been unable to make it to past theround of 16, and were even eliminated in the group stage this season.
Years of mismanagement has seen both Milan teams hemorrhage money, losing marquee players and wasting funds on signings that simply haven't panned out. They've been in utter turmoil for the past half decade, and the turnover with both playing staff and coaches has been astounding -- between the two teams, they've gone through a ridiculous 12 coaches since 2014.
This year both teams are all but out of Champions League contention, sitting in 6th and 7th place (dis)respectively. They meet for the 218th time with both teams fighting for a place in the Europa League, but that's not what makes this matchupinteresting: for the first time ever, both teams come into this match under new foreign ownership, desperately looking to return to the pinnacle of European soccer.
Inter Milan were bought by China's Suning Group in 2016, whileMilan ended a two-year sagaon Thursday with their sale to another Chinese consortium,Rossoneri Sport Investment Lux. Now, as the teams go head to head on Saturday, they're both facing an uncertain future, in completely different circumstances from anything they've dealt with before.
It's already been a roller coaster ride for Inter since their sale to the Suning Group in June. Former managerRoberto Mancini resigned just two weeks before the start of the season, and his replacement, Frank de Boer, was fired after only85 days aftera miserable start to his campaign. New manager Stefano Pioli looked like he'd figured things out for the Nerazurri, but a shock loss to Crotone just last week put all his previous good work in doubt, and they're now winless in three matches.Interspent big on players like Joao Mario, Antonio Candreva, Gabriel Barbosa and more, but despite that investment, it hasn't made much of a difference in their league position. Pioli's job is anything but secure, and neither is Inter's future.
For Milan, it's all up in the air too. After 31 years of ownership by the infamous Silvio Berlusconi, they're now under new management, hoping to rebuild their team to the point where they can challenge Juventus once again at the top of Serie A. They've got a numberof young, talented players in the team now, lead by Vincenzo Montella, but with a new ownership group coming in, there's no telling just how the squad will shape up in the years to come.
On Saturday, they meet again, in the familiar setting of their shared home, the Giuseppe Meazzo San Siro Stadium. There's notrophy on the line, no Champions League implications, and nothing really but pride and the chance to move close into Europa League contention up for grabs.
This isn't the Milan derby we're used to.
It's a brand new era, and it's uncharted waters for both of these teams. With Italy winning back their fourth Champions League qualification spot for 2017/18, things just got more interesting in Serie A, and both teams are perfectly placed to take advantage if they can turn it around.
Saturday'smatch may not mean a lot tothis season, but it marks a new genesis for the Milan clubs. They're at a turning point in their history, and the derby couldn't really come at a more interesting time for the two rivals. They've been inextricably tied to each other since Inter split from Milan in 1908, and now they're basically in the same position once again.
This match means a lot more than just a potential Europa League spot. It's a chance to start off the rebirth on the right foot.
Milan and Inter's futures aren't the only thing dependent on their success. Serie A's future is depending on them too.
MORE FROM FOX SOCCER