Sergio Romo's Ice Cream For The Undocumented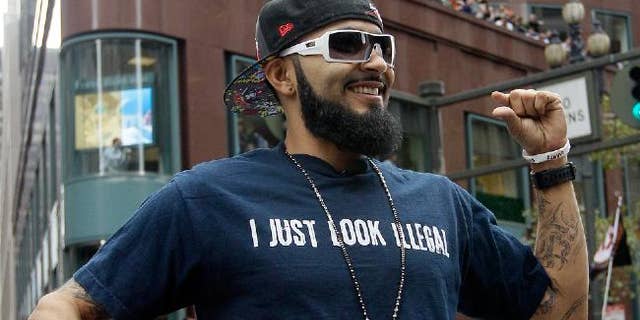 Mexican-American baseball player Sergio Romo made himself the Major League poster boy for immigration reform and the undocumented after he wore a T-shirt at last year's World Series victory parade that read "I Just Look Illegal."
The San Francisco Giants pitcher is now taking his plight for the undocumented in a new, colder direction.
Romo and a California Ice Cream company, Three Twins, signed an agreement last week to begin selling a brand new flavor, "Sergio Romo's Mexican Chocolate."
The tagline, "It Only Tastes Illegal."
The packaging features a caricature of Romo between two white men wearing sombreros. It also features a baseball adorned with the Mexican flag.
The company posted on Facebook this past December that they wanted to make the deal.
"We want to make Sergio Romo's Mexican Chocolate Ice Cream (it only tastes illegal) and raise money for immigration reform. Are any of you pals with him and can get us in touch? And more importantly, who wants some Mexican Chocolate in grocery stores?" the Facebook post said.
According to other media outlets, company owner Neil Gottlieb was inspired to make the ice cream after seeing Romo in the victory parade last year.
Earlier this month Romo released a video in support of immigration reform.
"I'm first-generation Mexican-American. Both of my parents were born in Mexico," he says. "My dad always spoke of the American dream as a man hard working, earning his keep, being able to take care of his family in a respectful manner."
Romo also took part in the video for "The Dream is Now" campaign in support of the DREAM Act.
As for the New Mexican chocolate ice cream, the company has told its followers on Facebook to expect it in September.
Follow us on twitter.com/foxnewslatino
Like us at facebook.com/foxnewslatino