Serena flubs crowning moment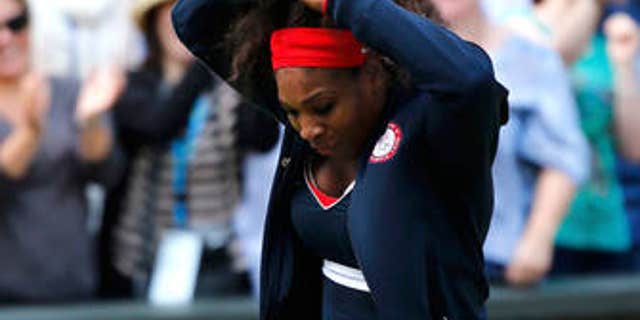 LONDON – She was in the city of kings and queens. People were sipping champagne and eating strawberries and cream. And Serena Williams had just ascended to the throne of tennis, becoming the second woman after Steffi Graf to win all four Grand Slam titles and an Olympic gold in singles.
Over the previous 63 minutes on the hallowed grounds of Wimbledon, Williams had absolutely obliterated the Russian superstar Maria Sharapova. She'd death-stared down the blonde, leggy Barbie doll, sending lasers down the line, making Sharapova lunge all over the court, hitting left when Sharapova was running right, and then, with a 120-mph ace, secured her Golden Slam and her place in history.
Then the 30-year-old who will end her career as one of the greatest tennis players of all time did something that could be interpreted two ways: As a stupid and insensitive celebration that dampened the crowning moment, or as a joy-filled nod to her roots.
The woman who grew up in Compton did the Crip Walk.
For the uninitiated, the Crip Walk is a funky little hip-hop dance move made famous by Crip gang members in Compton in the 1970s.
And there was Serena -- the tennis legend, the winner of 14 individual Grand Slams, the best player of her generation, the American girl being crowned at the All-England Club as the queen of tennis -- Crip-Walking all over the most lily-white place in the world.
She didn't do it on purpose. It was a moment of unbridled joy. She pumped her fist, jumped up and down, looked into the crowd, then did her ill-timed dance.
You couldn't help but shake your head. It was as if Serena just couldn't seem to avoid dipping into waters of controversy even as she'd ascended to the top of her sport.
"It was just me. I love to dance," she told a swarm of reporters afterward - every single one of them white. "I didn't know what else to do. I was so happy, and next thing I know I started dancing and moving. I didn't plan it. It just happened."
She was pleading ignorance. She knew that even associating the word "Crip" with a gold-medal performance could be toxic to her image, even if the dance itself is now distanced from those gang roots. A reporter asked what the dance was called. "The Serena?" the reporter suggested. "The Wimbledon?"
Serena just stared at the ground, embarrassed.
"Actually, there is a name. But I don't know if I -- it's inappropriate," she dodged. "It's just a dance we do in California."
But let's not let her tone of celebration overshadow a stunning performance on this Wimbledon grass that's been so good to her.
Saturday was Serena's finest match ever on Centre Court. The victory marked the most lopsided final in Olympic history. She had 10 aces. She looked cool and focused in the gusty wind. She tore through Sharapova so thoroughly, so efficiently, that you wondered if Serena had somewhere else she needed to be.
This was Michael Jordan dropping 45 on the Jazz in the Finals. This was Tiger Woods scorching the Masters by 12 strokes. This was Usain Bolt running away from the pack in Beijing. It felt like varsity beating up on junior varsity, even though junior varsity was one of the world's best. This was a maestro fully in control of her world.
"I've always wanted to win a (singles) gold medal secretly," said Serena, who has already won two gold medals in doubles. "Deep, deep, deep down, I wanted it in singles as well. I can't compare it. I have it. I have them all. It's a great feeling."
This was also the extraordinary American tennis star losing control for a moment and Crip-Walking at Wimbledon. Blinded by her joy, she walked all over her crowning moment.
On the podium, the gold medal dangling from her neck as America's national anthem played, the winds of Wimbledon struck down the American flag from its awning. The crowd gasped. Serena's eyes got big, and she giggled. The flag fluttered to the ground and was balled up by an Olympic official. Later, Serena joked that the flag was just trying to fly toward her: "It was probably flying to come hug me because the flag was so happy."
Maybe.
Or maybe it was the Royal Gods of Wimbledon, giving Queen Serena a proper British slap on the wrist for her moment of innocent, though unfortunate, American celebration.
Follow Reid Forgrave on Twitter @reidforgrave or email him at reidforgrave@gmail.com.