Seniors pave Mike Warren's path to (almost) 1,000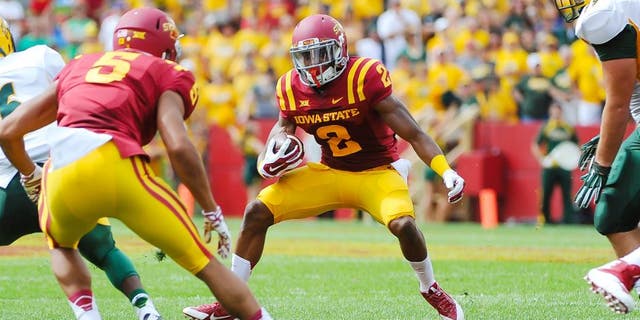 Aug 30, 2014; Ames, IA, USA; Iowa State Cyclones running back Aaron Wimberly (2) finds a hole against the North Dakota State Bison at Jack Trice Stadium. Mandatory Credit: Steven Branscombe-USA TODAY Sports Steven Branscome USA Today Sports
Mike Warren is one of the best freshmen offensive players in the country, and Iowa State fans are excited to see him play for the next three years in Ames.
But how has Warren had so much success? Beyond his own ability, his offensive line has been stout. Part of that is due to their experience, as the Cyclones have several seniors on that unit.
"Those guys help me," said Warren, who will become the Cyclones' first 1,000-yard back since Alexander Robinson rambled past the magic number in 2009. "Even sometimes when I'm reading some of the defense, they'll tell me where the ball's going to hit, which I think is pretty cool. Like they'll tell me what they're going to do and it should hit right here or right there."
Warren is going to have to go off if the Cyclones want to upset Oklahoma State on Saturday.
(h/t Cyclone Fanatic)