Selanne's son headed on NHL path?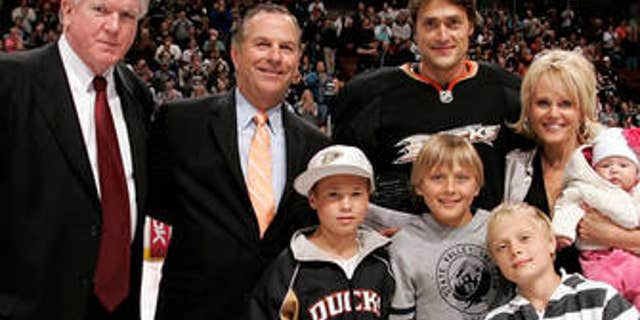 Eetu Selanne has come a bit of a way since he was posing for family photos with his famous high-scoring dad, Teemu.
These days, 15-year-old Eetu, a 5-foot-10, 170-pound forward, is at rookie camp with the Calgary Hitmen of the Western Hockey League and contemplating his own career path in hockey. Does he play juniors or go back for his sophomore year at Santa Margarita Catholic High in California? He and brother Eemil (a year older) helped lead Santa Margarita to the USA Hockey High School Championship in March.
Father Teemu has been leaning toward wanting his son to go to college and continue his hockey and -- more importantly -- his education there.
"He would like me to play college because he thinks even if I don't make it as far (as the NHL), I can still get a good education and play at the same time," Eetu told NHL.com . "But he also likes how the Calgary Hitmen do their program after talking to Ryan Getzlaf (Teemu's Anaheim Ducks teammate) about it, because he gave him a lot of advice about the program and how it works."
Meanwhile, the elder Selanne, 43, has been mulling over whether to play one more season or retire. He said he will decide next week . But even if he doesn't play another game, Teemu Selanne already ranks 15th all time in the NHL in points with 1,430, sandwiched between some pretty good company -- Stan Mikita and Bryan Trottier. Teemu's 675 goals rank 11th in NHL history.
Here's Eetu interviewed at rookie camp, talking about how his first invitation got lost with Dad's fan mail:
And let's Finnish up -- see what we did there? -- with a look at Teemu bringing the Stanley Cup to his native Finland after winning it as a member of the Ducks in 2007.
H/T NHL.com