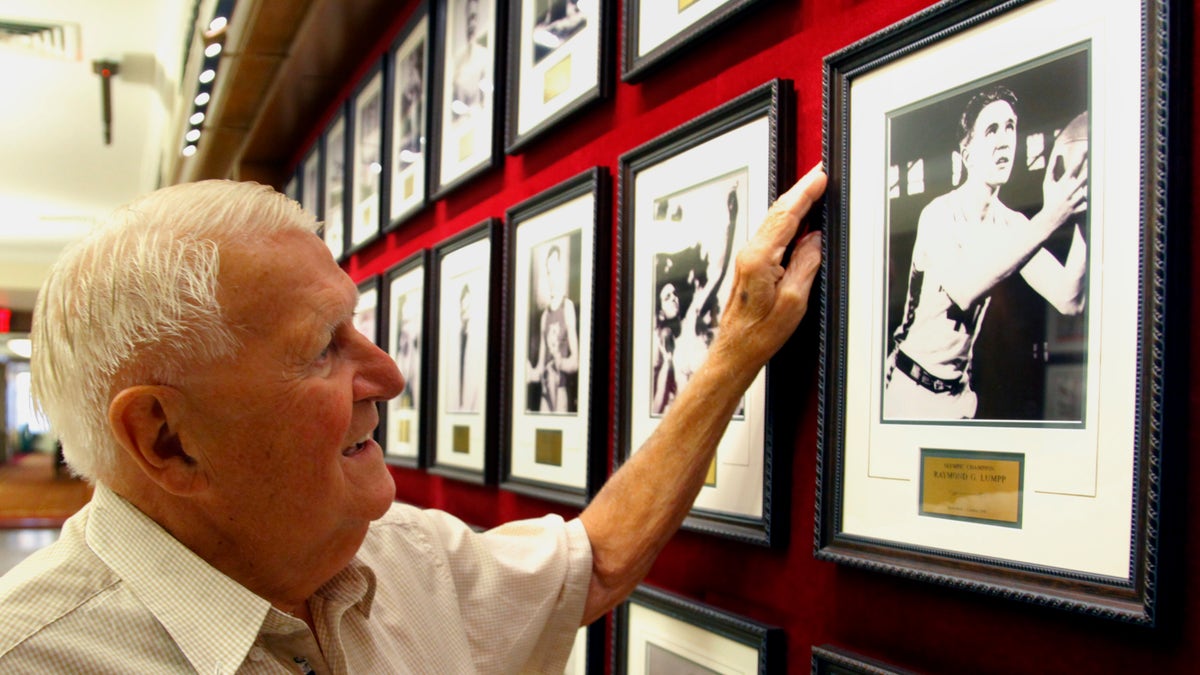 When the U.S. men play Argentina on Friday night, one 89-year-old basketball fan promises to cheer louder than anyone else.
He's Ray Lumpp, and this isn't his first London Olympics. Back in 1948, he competed on the U.S. basketball team at another London Games.
Lumpp is here at the invitation of U.S. basketball coach Mike Krzyzewski -- a little special something to motivate the team.
Now one might wonder what an elderly New Yorker might be able to tell a group of fantastically gifted athletes quite accustomed to pressure. But Lumpp, who lives on Long Island, has a different Olympic story to tell.
He can share his shock about what he saw in 1948: a bombed-out London still piled with rubble that didn't seem ready for the 4,000 athletes gathering for those games. The country couldn't afford to build an athletes village, so competitors stayed in schools, military barracks and private homes -- anywhere the government could find an extra room for them. Food was still rationed. U.S. athletes brought their own meat and sugar -- and were criticized for it.
"I remember being at St. Paul's Cathedral and there was rubble all around," he told The Associated Press in an interview Friday. "I have to admire the English people. They put on a games they could be proud of. ... Everything they had, they shared with us."
Lumpp had made his own sacrifices. Instead of turning professional after World War II, he decided to attend New York University and scrupulously maintained his amateur status. His goal was the Olympics -- and he followed all the rules.
"The greatest thrill in my life was when I was selected for the team," Lumpp said. "I was so proud."
He was married, but couldn't afford to take his wife, Anne, with him to London. It took him two months to cross the Atlantic by boat, compete in London and get back. He returned $800 in debt. But he had his gold medal.
Lumpp went on to play professional basketball, including four years with the New York Knicks, before spending five decades as athletic director of the New York City Athletic Club. His name is now engraved on the gym floor.
He kept in touch with the sport, as the central Manhattan club lets Olympians and professionals come and work out when they're in town. One of those players was Kobe Bryant.
"Kobe was working out there and said `what did you do to get your name on the floor?' " Lumpp said, adding that Bryant was startled that anyone could spend decades in a single place. He has a bust at the club too, and memorabilia in a case.
Lumpp also used to organize track meets. He remembers one particular meet in New Jersey where another person who would have a lasting impact on these London games -- British runner Sebastian Coe -- apologized profusely for a poor performance.
Coe went on to win two Olympic gold medals and now leads the London 2012 organizing committee. Lumpp says the two have traded emails and hope to meet again. Perhaps tea? Lumpp wants to tell Coe to forget the stupid meet already -- he did just fine in the end.
Krzyzewski said including Lumpp was the right thing to do as the team goes for gold again -- it's good to remember the past even as you play in the present.
"I do think it will help our players understand that at some time in their lives, they will be Ray Lumpp," he said in an email. "You would hope that someone would honor the memory of a great accomplishment that you had in the way that we hope to honor it with Ray."
For his part, Lumpp is just so excited to be here. At the morning buffet Friday, Team USA players like Sue Bird came over to offer him a bear hug. The NBA's deputy commissioner stopped by to say hello. He's just part of the family.
"The Americans have the greatest players in the world," he said, his New York accent punctuating every syllable. "I hope that they bring home the gold medal and drop it off at the White House."
He has been nervous for months, anxious to make sure he simply got here again. "I'm 89, you know." He wants to say "Thank you" to Britain for helping make all his dreams come true, and to wish the team well.
He walks with a cane now, but still moves with grace. You can see there was time he would have been a force on the court. But Lumpp says there is just no comparison to the old days: Athletes now are bigger, stronger, faster.
He's not about to preach. But he can tell them, in case they are interested, that being an Olympian is a special thing.
"There's nothing more important than competing for your country," he said.
While sports has been his passion, Lumpp also treasured his family. Although he sadly lost his wife, he thrives on the joys of his four children, his 14 grandchildren and 6 great-grandchildren. The kids are here in London with him for a big family reunion.
"I've had a great life thanks to a little round ball," he said. "I had such a great job. I'm lucky to have had such a wonderful family. That's what life is: passing something on."
So who's that old guy screaming? That's Ray Lumpp. Official member of one U.S. dream team, adopted by another.