Second-half collapse shows Avs have work to do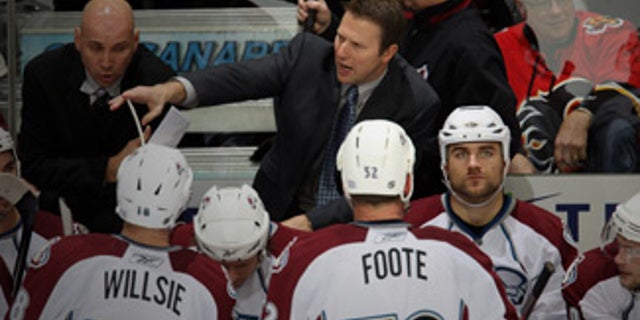 DENVER -- Now that the nightmarish season is over, the Colorado Avalanche have plenty of offseason work to do to return to respectability, along with a playoff berth.
The Avalanche finished 29th in the NHL's overall standings with a 30-44-8 record and 68 points, the team's worst record since it arrived in Denver from Quebec City in 1995-96.
Hard to believe the Avalanche were in the hunt for first place in the Northwest Division as recently as Jan. 24 with a 25-18-6 record before collapsing. Colorado went 5-26-2 in the final 33 games, a drought that included two 10-game losing streaks.
"It really went bad for us. It wasn't fun at all," said second-year center Matt Duchene, who led the Avalanche in scoring with 67 points (27 goals, 40 assists). At 20 years, 84 days old, he passed Joe Sakic (20 years, 268 days old with Quebec in 1989-90) as the youngest top scorer in franchise history.
"Obviously there were 20 games there where everyone was struggling," Duchene added. "It is what it is; it happened. I think it's good to get it out of the way at a young age. For a lot of us, especially guys like me and (Ryan) O'Reilly, I think it's good to learn how to lose before you win. If we ever go through this situation again we'll know how to handle it better. Hopefully it won't happen again."
Duchene is considered a candidate for the vacant team captainship, now that Adam Foote has retired.
"I haven't thought about anything to do with any leadership or anything like that," he said. "That's up to the organization and up to the coaches. If I can just try and lead as best I can on the ice and quietly out there, that's going to benefit the team the most."
Losing a franchise-record 474 man games to injuries and illnesses didn't help. Left wing Peter Mueller missed the entire season after suffering a concussion in an exhibition game, defenseman Kyle Quincey sat out the final 53 games to recover from shoulder surgery, and left wing Tomas Fleischmann missed the last 36 games while taking medication for blood clots in his lungs.
Twenty-eight players missed at least one game and the Avalanche used a team-record 39 players during the season.
"Losing the guys that we did during or in the beginning of the season, it was difficult for our young team to overcome," said Avalanche coach Joe Sacco, who is expected to return for a third season. "It was at the end of January when we were right in the thick of things and unfortunately we weren't able to sustain it. You don't go through a sequence like that without a major reason."
Injuries aside, the Avalanche offense disappeared in the final 33 games when it scored two goals or fewer 23 times. In contrast, the Avalanche allowed four or more goals in 18 of those games, including a humiliating 9-1 home loss to Calgary on Feb. 14.
Four days later, Craig Anderson -- the club's most valuable player in 2009-10 -- was traded to Ottawa for Brian Elliott in a swap of struggling goalies that didn't pan out the way the Avalanche hoped.
Elliott, a restricted free agent, went 2-8-1 in Colorado with a 3.83 goals-against average and .891 save percentage. He permitted four or more goals in seven of 12 games.
Peter Budaj, who will be an unrestricted free agent, started five of the final six games and finished 15-21-4 with a 3.20 GAA and .895 save percentage.
"I think it's fair to say when you go through a season like this, especially the second half, there certainly are a lot of players that are being evaluated," Sacco said. "Just like everyone else, we're all being evaluated. I think it's unfair to (blame) the goalies and certain players. We all have to share a little bit of the responsibility as far as what happened here in the second half of the season."
Sacco acknowledged the Avalanche's special teams need improvement, especially penalty killing. The Avalanche were last in the NHL in this area at 76.1 percent, having permitted 75 of its League-worst 288 goals while short-handed.
"If you look at our goals against, it's a large number, but I think that gets inflated because of our penalty killing," Sacco said. "So that's an area where we'll obviously spend some time in the offseason looking at and making sure come September that we improve in that area. That's going to be a focal point, along with our overall team defense."
The Avalanche also needs to get bigger and tougher, especially up front after trading power forward Chris Stewart and defenseman Kevin Shattenkirk to St. Louis in the Feb. 19 deal that brought defenseman Erik Johnson and center Jay McClement to Colorado.
The Avalanche, who will pick no lower than third in the 2011 Entry draft, also received a No. 1 selection from the Blues in the blockbuster trade that could be as high as the 11th pick.
"I still see tons of talent here and we're getting some high draft picks, too," said veteran right wing Milan Hejduk, who had 22 goals and 56 points in 71 games. Hejduk, the last remaining member of the Avalanche's 2001 Stanley Cup championship team, will be an unrestricted free agent but wants to return for another season.
"It's like we were two different teams the first half of the season and the second half," he said. "It was like we hit the wall and we couldn't get anything going. It was very strange. We had a ton of injuries and … we'll bounce back, like we always do here. I try to stay positive."
Said Duchene: "There's only one guy left who won a Cup, so it's a new wave, a new era of Avalanche guys. People should be excited about the future. I know this year was a bit discouraging. It happens; every team goes through it. We're in a rebuilding phase and come next year we'll try to put together a full season like we did probably the first two-thirds this year."