Seattle's Richard Sherman finds comments after loss to San Diego 'hilarious'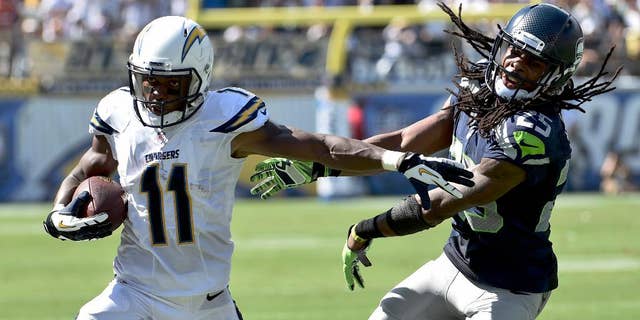 RENTON, Wash. – Richard Sherman heard the comments coming from the San Diego locker room after Seattle's 30-21 loss to the Chargers late Sunday.
His response: It was just someone seeking attention.
"I thought that was pretty hilarious," Sherman said. "You know when a guy wants to get his name in the paper he has to say something crazy."
Sherman's comments Wednesday were his first since the Seahawks fell to 1-1. He did not speak after Sunday's game, but clarified on Wednesday that he was available Sunday at his locker after the defeat and was not approached.
But while Sherman didn't talk after the game, some of San Diego's players were clearly taking shots.
"He's just a normal guy. We can go at him. We are not going to shy away from him. He's not really a shutdown corner," Chargers wide receiver Keenan Allen said. "We definitely wanted to come out and show we could go anyway we wanted to and that we were in control of the game."
Added wide receiver Malcolm Floyd, "Keenan was lighting up Sherman on defense."
Sherman made a note of responding to those comments, but avoided using the name of either Chargers receiver.
"It's humorous. It's funny. It's really funny," Sherman said. "Especially when you've got little guys like the Chargers guys saying they've exposed something. They had 60 and 50 yards. (Antonio) Gates, Hall of Famer, had a fantastic game and Philip (Rivers) had a great game, and the rest of the guys were there. You see stuff like that and it makes you laugh."
For still being without an interception or even credited with a pass breakup, Sherman has been in the news in each of Seattle's first two games.
In the season opener, Green Bay decided to cut off half the field and never threw in Sherman's direction. Seattle chooses not to switch its cornerbacks from side to side and Aaron Rodgers only looked to the opposite side of where Sherman was lined up.
San Diego wasn't as adverse, throwing Sherman's direction on a number of occasions, including a few receptions by Allen. According to STATS, Inc., Sherman was targeted six times and allowed four receptions for 54 yards against the Chargers.
"I think it's pretty normal. And I think it amplified because the first week the ball didn't go his way at all. They just played normal football and a couple of plays went that way and he defended some stuff and they got a couple of balls. But that is totally going to happen," Seattle coach Pete Carroll said. "I thought the San Diego guys were on point with it. You heard Philip Rivers talk about it, they just played a regular game plan and they showed respect for the player that Richard is and it worked out pretty normal I think."
Sherman will likely get tested plenty this week with Denver coming to town. It's just the sixth time the previous Super Bowl participants have met the following season. Peyton Manning did challenge Sherman in the Super Bowl, but it was a rarity. Sherman's championship night was mostly quiet before leaving late in the game with an ankle injury.
"I think he'll spread it around pretty good. Peyton always does," Sherman said. "He'll complete a lot of passes, he'll check it down, he spreads the ball out great. I'm sure we'll be very prepared and everybody will be on it."
NOTES: RB Marshawn Lynch did not practice on Wednesday with a sore back. Lynch left the field and went to the locker room in the final minute on Sunday, but Carroll said that's because his back was bothering him. ... SS Kam Chancellor (ankle) and TE Zach Miller (ankle) also did not practice.