Seattle Seahawks agree to terms with Brady Quinn to be backup QB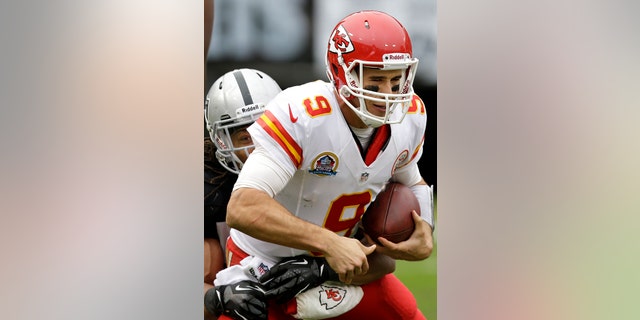 SEATTLE – Brady Quinn is the new backup quarterback for the Seattle Seahawks after beating out three others during a tryout with the club.
Quinn and the Seahawks agreed to terms on a contract on Tuesday. Details of the contract were not announced.
The deal came together a day after the Seahawks worked out Quinn, Matt Leinart, Seneca Wallace and Tyler Thigpen, a foursome of journeymen QBs looking for a backup job. Quinn emerged the winner and the presumed backup to Russell Wilson.
Quinn spent last season with the Kansas City Chiefs. He started eight games and threw eight interceptions and just two touchdowns. He was also sacked 21 times in 197 pass attempts and went just 1-7 as a starter. That was Quinn's first regular-season game action since 2009, when he started nine games for the Cleveland Browns, the team that originally drafted him in the first-round in 2007. Quinn spent the 2010-11 seasons on the Denver roster but never saw any game time.
Seattle needed a backup after making the decision to part with Matt Flynn. The original plan was for Flynn to be Seattle's starter when the Seahawks signed him to a three-year deal last offseason. That was before Wilson arrived and won the starting job in training camp, and eventually leading the Seahawks to an 11-win season and a road playoff victory. Seattle traded Flynn last week to Oakland for a pair of future draft picks.
The belief was Seattle might want to find a backup to Wilson who has some of the same running attributes that made Wilson so dynamic last season — and Seattle's offense so potent once the zone-read scheme was added. Wilson rushed for 489 yards during the regular season.
Quinn does not fit the profile of a quarterback who's a legitimate threat as a runner. In 24 career NFL games, Quinn has rushed for 185 yards.
Seattle does have another QB with some running ability on its roster. The Seahawks signed Josh Portis to a two-year contract last week. Portis was on Seattle's roster for all of 2011 and was on the practice squad until last November, when he was released.
Seattle is likely to use one of its 10 draft picks on a quarterback as well.