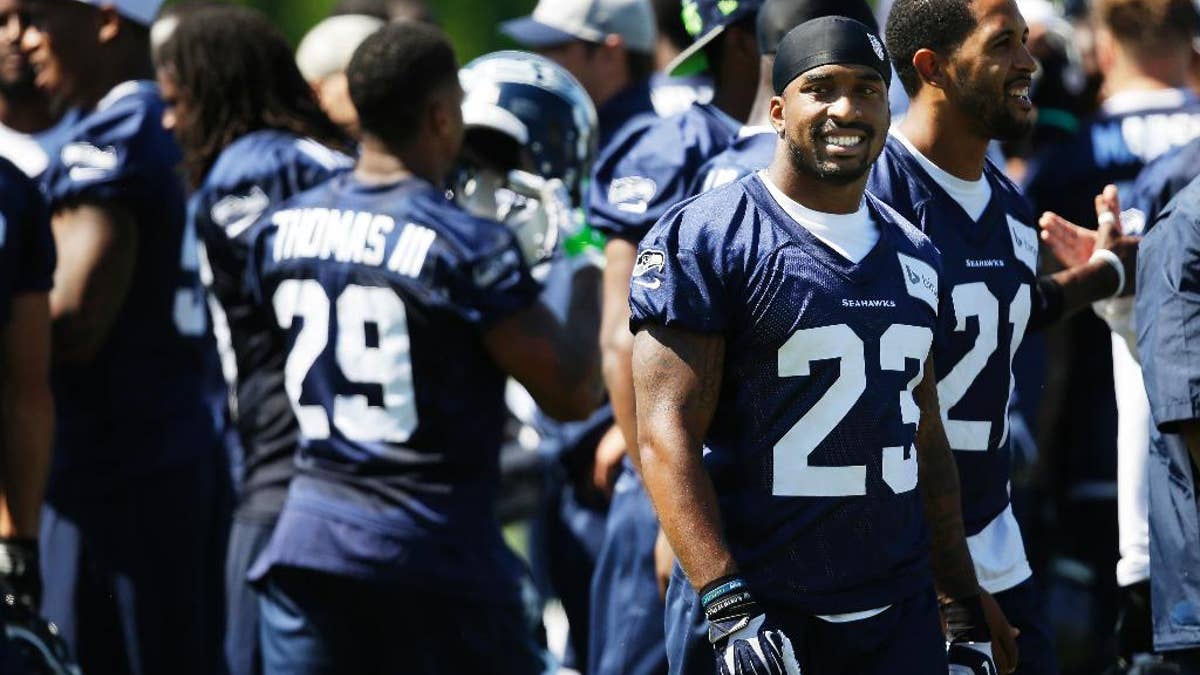 RENTON, Wash. – Jeron Johnson knows this is all going to end. That eventually Kam Chancellor will be back at strong safety and patrolling the Seattle Seahawks secondary.
For now, Johnson is going to do all he can to leave a strong enough impression that should Chancellor ever need a break, the secondary will get along just fine.
"I'm just trying hard to get out here and compete and show what I've got and that I can play the game. I hope they do have confidence in me if, God forbid, something happens to Kam that I can step in," Johnson said. "I want Kam on the field. I want to play with Kam so if I could just get the coach's confidence to put me out there. ... I know my role on this team. I know what it takes to be ready if and when Kam goes down and to contribute on special teams."
Johnson is beginning his fourth season with the Seahawks, going from the undrafted rookie out of Boise State who fought to make the roster to the established backup at strong safety to Chancellor, who is recovering from offseason surgery. But his role for Seattle goes beyond just being Chancellor's backup.
With Chris Maragos leaving for Philadelphia in free agency, Seattle has no true back up for All-Pro Earl Thomas at free safety. So for now, Johnson must know the free safety role as well.
"He's been waiting for a long time now and he's a guy that can play strong safety and free safety so he's always been kind of the next in line. He's always prepared himself in that fashion," Seattle defensive backs coach Kris Richard said. "The reps are valuable and it's going to be good for him to get out there and continue his development and continue to put on tape who he is."
Johnson has been running with the No. 1 defense throughout offseason workouts and into the first part of training camp. Even though Chancellor returned to practice this week, Johnson will likely start on Thursday night when Seattle opens the preseason in Denver. It's important experience for Johnson because his playing time has been sporadic with Chancellor ahead of him.
Johnson has played in just 31 games in his three seasons and recorded only six tackles. He was on injured reserve at the end of last season when the Seahawks made their run to the Super Bowl title after a hamstring injury ended his year early. He was limited to just seven games.
But he remained in Seattle's offseason plans. Instead of drafting a safety or looking for a veteran in free agency, the Seahawks felt confident going forward with Johnson knowing that Chancellor would be out until August.
The biggest difference Johnson has noticed playing alongside Thomas and Richard Sherman: the communication.
"It's helped me just worry about doing my job and communicating. Just the communication level with the (No. 1s) is extreme," Johnson said. "Everybody is reading indicators and it makes my job easier."
Seattle's defense certainly has a different look with Johnson on the field instead of Chancellor. There are few 6-foot-3, 232-pound players in the NFL with the quickness and physicality to play like Chancellor. Johnson doesn't try to be like his teammate even if the mentality is similar. Johnson was a linebacker through high school and only transitioned to safety when he arrived at Boise State. He's always enjoyed hitting.
"Jeron is always disciplined." Sherman said. "He's always technically sound. He's right where he needs to be. He's always in the right spot doing the right thing. Calling out the plays. He's a very sound player. He's going to make the open-field tackle. We don't miss a beat when he's out there."
NOTES: Chancellor talked Tuesday for the first time since the Super Bowl and said the hip he had surgery on had been bothering him since college. ... G James Carpenter returned to practice after sitting out a few days with a sore calf. ... RB Marshawn Lynch got his most extensive work on Tuesday since ending his holdout and joining the team late last week. ... Seattle waived/injured S Dion Bailey and signed CB Trey Wolfe.
___
Online:
AP NFL website: www.pro32.ap.org and www.twitter.com/AP_NFL