Seattle Mariners Ace Pitcher Felix Hernandez Starts Heating Up At Spring Training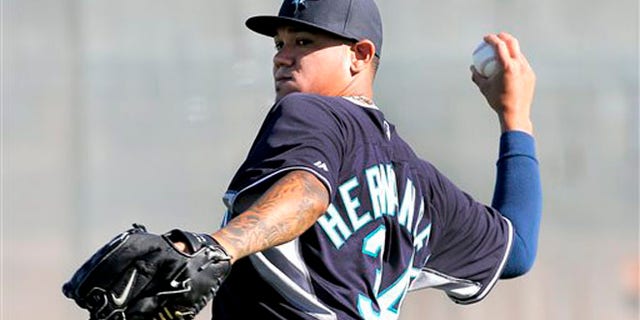 PEORIA, Ariz. (AP) – Another year, same routine at the outset of spring training for Felix Hernandez.
The Seattle Mariners ace threw his first bullpen session of the spring on Monday, and as in recent years, will be ramped up gradually in order to get him ready for opening day on March 31.
The preparation for the season opener began with him throwing fastballs, curve balls and changeups. Manager Lloyd McClendon and pitching coach Rick Waits both said Hernandez looked great.
Last February, Hernandez was brought along slowly in part because he left spring training to return to Seattle to sign his new contract, and got behind on his scheduled work. The idea has been to not make him pitch as much in February so he can be at full effectiveness in late March or early April.
"Not bad," Hernandez said of his day's work. "Beginning was a little wild. I was up. But then the ball came out pretty good."
Hernandez said he might pitch in game action by the seventh game of spring training.
Hernandez has taken a mentoring role with young Taijuan Walker, who is working toward being in the Mariners' starting rotation when the season begins. Hernandez feels both Walker and left-handed starter James Paxton, both entering their first full seasons with the club, are ready to join the rotation and welcomes their questions.
"They have a lot of talent," Hernandez said. "They just need to keep working hard and do their thing."
Hernandez had similar guidance from former teammates Eddie Guardado, Joel Pineiro and Jamie Moyer when he was starting his big-league career.
Hernandez realizes he isn't the only big name on the Mariners, now that star second baseman Robinson Cano has arrived. He welcomes another All-Star.
"He can hit a lot, man," Hernandez said. "Glad I don't have to face him. It's all about winning. That's all we need to do."
He's also glad to have a proven closer in Fernando Rodney on the team.
"This club, it's going to be a lot of fun this year," Hernandez said. "I can't wait."
Follow us on twitter.com/foxnewslatino
Like us at facebook.com/foxnewslatino