Seahawks-Vikings will be one of the coldest games in NFL history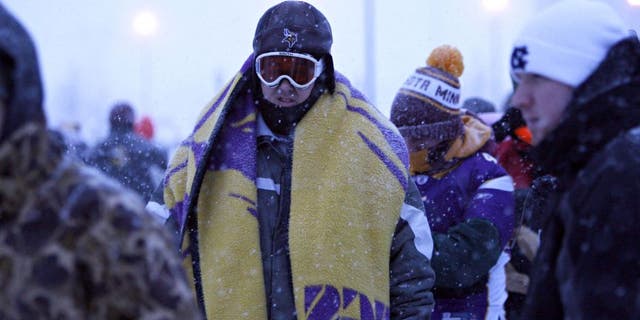 Few things are as great as the NFL playoffs, and nothing is as great as football in the snow and freezing cold, so Seahawks-Vikings on Sunday should be awesome.
For everyone of us watching in the warm confines of our home, that is.
Seattle and Minnesota are facing sub-zero temperatures in what projects to be one of the coldest games in NFL history. Right now, weather.com has a high of 0 degrees and a low of -9 for Minneapolis on Sunday. Of course, that's before considering wind chill (fortunately, the game will kick off at 12:05 p.m. local time).
As the Star Tribune points out, 0 degrees (or colder) would be the coldest home playoff game in Vikings history, and there has been only nine games in NFL history where the temperature never rose above 0.
The coldest home game ever for the Vikings was Dec. 3, 1972 against Chicago, per the Star Tribune, where temperatures were -2 degrees (the sixth-coldest game ever in league history).
Luckily, the Seahawks and Vikings won't be making a run at the NFL record for freezing. The coldest game ever, of course, was the 1967 title game at Lambeau Field -- the "Ice Bowl" -- where the Packers and Cowboys faced -13 degrees and a wind chill of -48.
Something tells me Pete Carroll will still be running around the Seattle sideline like a joyous wildman no matter what the temperature is.
Teddy Mitrosilis works in social content development at FOX Sports Digital. Follow him on Twitter @TMitrosilis and email him at tmitrosilis@gmail.com.