Seahawks stun Packers in controversial final play, putting replacement officials back in spotlight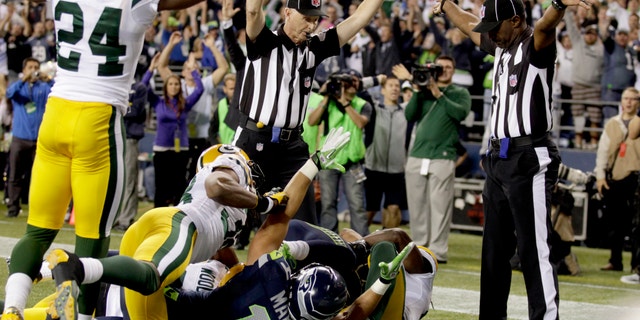 The furor over the work of replacement officials reached a fevered pitch during Week 3 in the NFL, especially Monday night when Seattle beat Green Bay on a desperation pass that many thought was an interception.
Seahawks receiver Golden Tate was awarded a touchdown on the final play after a scrum on the ground in the end zone. Packers safety M.D. Jennings appeared to catch the ball against his body, with Tate getting his arm around the ball.
The NFL Tuesday upheld the Seahawks' 14-12 win over the Green Bay Packers on Monday Night Football.
The league said in a statement Tuesday that Seattle's last-second touchdown pass should not have been overturned
During the game, one official indicated a stoppage of play, but another signaled touchdown for a conclusion former NFL coach Jon Gruden, working the game on TV, called "tragic" and "comical."
Tate clearly shoved cornerback Sam Shields to the ground on the play, but as Gruden noted, offensive pass interference almost never is called on desperation passes.
"Very hard to swallow," Packers coach Mike McCarthy said. "I have never seen anything like that in my time in football."
One day after New England coach Bill Belichick was confused about a decisive field goal he thought was off-target and Detroit's Jim Schwartz couldn't understand a 27-yard penalty walk-off for unnecessary roughness, things had gotten even more chaotic.
"These games are a joke," Hall of Fame quarterback Troy Aikman tweeted.
McCarthy was measured in his postgame remarks.
"Most unusual football game I have been a part of," he said. "I know it's been a wild weekend in the NFL and I guess we are part of it."
Packers guard T.J. Lang was even more emphatic, tweeting that the Packers were robbed "by the refs. Thanks NFL."
In Sunday night's Ravens-Patriots game, shoving matches followed even insignificant plays. One TV analyst called it the substitute-teacher syndrome: See how much you can get away with before the real thing returns.
"Nature says for us that we're going to go out there and push the limit regardless," Vikings linebacker Chad Greenway said. "If they're calling a game tight, if they're calling a game loose, it's going to be pushed to the limit. You are pushing it to the brink. If things are going to be called easier, and in some situations I feel like they've been less lenient, too, you've just got to play and see how (it's being called)."
If you can figure it out.
Broncos coach John Fox was fined $30,000 Monday and defensive coordinator Jack Del Rio $25,000 for verbal abuse of the officials during a Monday night game against Atlanta on Sept. 17.
More fines are likely for Belichick and Redskins offensive coordinator Kyle Shanahan, and perhaps for others.
Fox and Del Rio were hit for their sideline histrionics, particularly when Fox was told he couldn't challenge a call of 12 men on the field -- he was correct that he could challenge, although replays showed the Broncos were guilty.
Before grabbing the arm of an official, Belichick wanted to know why Justin Tucker's field goal was called good in Baltimore's 31-30 victory Sunday night. He couldn't tell from his angle on the sideline, he said.
"So when the game was over, I went out and I was really looking for an explanation from the officials as to whether the play was under review," he said, "and I did try to get the official's attention as he was coming off the field to ask that, but I really wasn't able to do that."
Most confusing was the mark-off for a Lions penalty in overtime at Tennessee. Officials wound up penalizing Detroit from its 44-yard line rather than from the original line of scrimmage, the Titans 44.
Soon after, Rob Bironas kicked a go-ahead field goal.
Schwartz noted that the alternate official who helps the replacements with administrating penalties was on the Detroit sideline.
"We said, `You're enforcing it from the wrong spot.' He was adamant that they weren't doing so," Schwartz said. "At that point, we just needed to play."
They didn't play well enough to avoid losing 44-41, and Titans coach Mike Munchak wasn't apologizing for how his team won.
"I don't feel any guilt," Munchak said. "For us, really the obvious answer is there's nothing we can do about who's officiating games. It's the same for everybody, so go out and don't get caught up in all that."
The league and the officials' union met Sunday without reaching any agreement on ending the lockout that began in June. The players' union also called on the 32 team owners to end the lockout because it is compromising the integrity of the game.
While most of the coaches are being careful what they say about the replacements, the players and broadcasters are less inhibited.
"Unfortunately, I feel like that it's like changing an intersection from a stop sign to a red light," Browns kicker Phil Dawson said. "You have to have so many car wrecks before they deem that intersection to be dangerous enough -- and we're heading that way. Someone's going to lose a game, if it hasn't already happened, to get both sides to a pressure point to get a deal done. It's sad."
Certainly not holding back on the criticism are some of the NFL's broadcast partners. Analyst Cris Collinsworth was forthright in his evaluation of the officiating problems Sunday night, as were Mike Tirico and Jon Gruden during last Monday night's flag-fest in Atlanta.
"We don't want to talk about the officials, trust us," ESPN's Tirico said. "But it's affecting the game. When we meet with teams and coordinators, frustration boils out into limited on-the-record statements. Off the record, what guys are saying -- it's a nightmare. It is impacting the game.
"It hasn't burned a team to cost them a playoff spot yet. But you should go back and watch the film. There are so many little things that players are getting away with that is absolutely impacting the game to the detriment of the product."
Yet some players aren't completely down on the performances of the replacements.
Patriots receiver Deion Branch noted all the controversy about officiating throughout the league.
"But I think the bigger picture is that we've all got to understand that, hey, they're making those calls on both sides of the ball," Branch said. "Us as players, we need to remove ourselves from what the refs are doing and just go out and play our game."
Rams defensive end Chris Long offered, apparently with no sarcasm, that the game "hasn't changed at all with the replacement officials because officials don't care about defensive linemen, replacement or first-tier officials."
Then he admitted taking the regular officials for granted.
"The NFL could really use them back," Long said.