Seahawks have nine players ranked in top 100, according to poll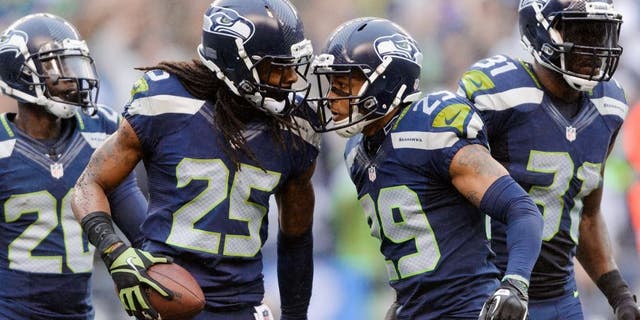 NEWYou can now listen to Fox News articles!
There's no question the Seahawks boast a one of - if not - the most talented rosters in the NFL.
A top-ranked scoring defense for three straight seasons and two straight Super Bowl appearances, including one Super Bowl win can attest to that.
A panel of 71 voters that included ESPN analysts, insiders, reporters and other experts, ranked the top 100 players in the league.
Of those 100, nine Seahawks players made the cut: Richard Sherman (8), Marshawn Lynch (14), Earl Thomas (15), Jimmy Graham (23), Bobby Wagner (32), Russell Wilson (33), Kam Chancellor (36), Michael Bennett (60) and Russell Okung (91).
Sherman finished as the top-ranked cornerback, Thomas was the top-ranked safety, Lynch was the second-ranked running back behind Adrian Peterson and Graham was the second-ranked tight end after Rob Gronkowski.
There's no denying the Seahawks dominance the last couple years.
Tyrann Mathieu said it best when he acknowledged the NFC still goes through Seattle.
(h/t ESPN)