Seahawks' Coleman pens response to hearing-impaired girl's letter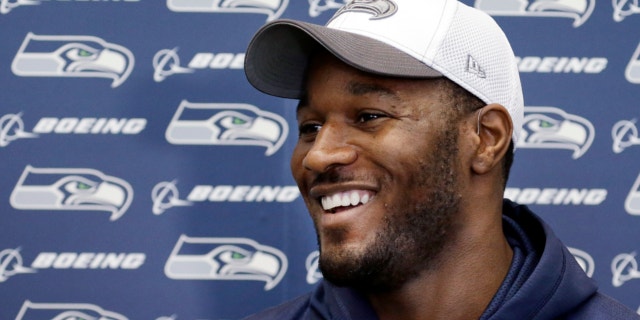 RENTON, Wash. – Before heading to a team walkthrough Wednesday morning, Seattle Seahawks fullback Derrick Coleman felt the need to write.
So he took a couple of minutes to write to 9-year-old Riley Kovalcik after a letter she wrote to Coleman ended up on his Twitter feed a day earlier.
"This morning I woke up and was like let me write something back. So right before our walkthrough I wrote up a little something," Coleman said in the Seahawks' locker room on Wednesday afternoon. "Might see some grammar mistakes in there, but I was trying to put it out right quick and send it back."
Kovalcik, who is hearing impaired, saw her letter get circulated around social media on Tuesday after it was retweeted by Coleman, who is also hearing impaired. The 9-year-old wrote, "Just try your best. I have faif (sic) in you Derrick good Job on January 20th game."
Kovalick also wrote that she wears two hearing aids just like Coleman and she also has a twin sister that wears one hearing aid.
The letter was sent via Twitter by Riley's father, Jake. He told the New York Daily News on Wednesday that he posted the letter to show Coleman how much of an inspiration he is for kids. Coleman posted his letter to Twitter on Wednesday so she could see his response.
"He's been so successful. He's somebody to look up to and he made her feel like hearing aids are cool," Jake Kovalick told the Daily News.
Coleman said he regularly receives letters, but Riley's felt special and that's why he took the time to respond so quickly even as the Seahawks are preparing for next week's Super Bowl against Denver. Coleman wrote, "I want you to know that I always try my best in everything that I do and faith in you & your twin sister too. Even though we wear hearing aids we can still accomplish our goals & dreams."
Coleman recently did a commercial for Duracell batteries that has become a YouTube sensation with more than 9 million views.
"It means the world to them," Coleman said of the letter. "It only took a couple of minutes of my time."