Seahawks' Carroll on Super Bowl loss: 'I think we had some hangover'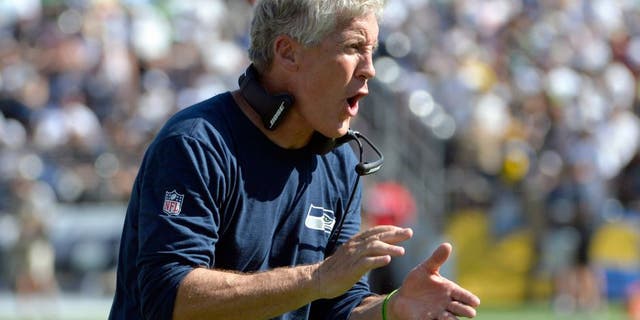 NEWYou can now listen to Fox News articles!
The Seattle Seahawks' slow start to this season can be traced back to 11 months ago. Specifically, the team had to put its Super Bowl loss to New England in the rearview mirror.
"It just took us some time. I think we had some hangover from it," Seahawks coach Pete Carroll told reporters Monday. "Look at the history of the teams coming out of the Super Bowl. How well are they doing the next year? It's a most challenging event to endure for a program and staff and players and fans and all of that. I'm proud to say we're still fighting, and here we go again. We'll see what happens."
The crushing nature of the 28-24 loss to the Patriots just heightened the severity of the hangover. Seattle was one yard from the go-ahead touchdown and winning back-to-back Super Bowl titles when New England cornerback Malcolm Butler made a gave-saving interception at the goal line with 20 seconds to play.
"We had to get through last year," Carroll said. "We had to get through the finish to the season. There was no question it had a big impact. And we did. We made it."
It didn't appear the Seahawks would make it for much of the season. They dropped their first two games and four of their first six. Along with five blown fourth-quarter leads, Seattle did not beat a team with a winning record until a 39-30 victory versus Pittsburgh on Nov. 29, but it won six of its final seven.
"Every season it's something. It could be personnel losses, coaches, players, quarterbacks leave, whatever, things happen," Carroll said. "You have to deal with it. That's just a microcosm of life. You have to deal with stuff, and then you move ahead. You have to deal with it properly and put it in the right place and then get on."