Scroll Tide: Alabama synagogue sacks football talk on Yom Kippur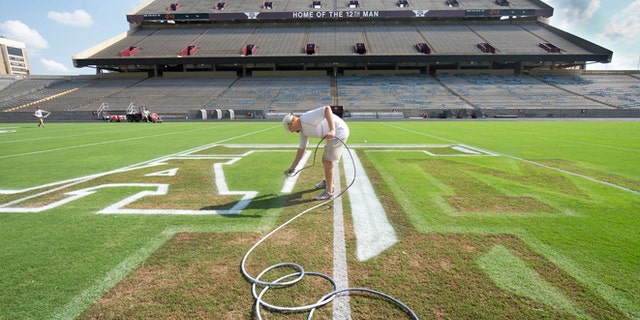 When Crimson Tide football and the Jewish High Holy Days collide, expect detailed game plans — at least within Alabama's largest synagogue.
Any talk of college football during Yom Kippur on Saturday, the holiest day in the Jewish calendar, is a distinct no-no at Temple Emanu-El in Birmingham, Rabbi Jonathan Miller told FoxNews.com.
"This is religion here," Miller said in reference to top-ranked Alabama Crimson Tide, which takes on Texas A&M at 2:30 p.m. Saturday. "As I say, in Alabama, there are two contact sports: religion and football."
"As I say, in Alabama, there are two contact sports: religion and football."
Miller said an announcement pertaining to the new policy was distributed in a handout bulletin at the 750-family congregation during Rosh Hashanah services on Wednesday. Observant Jews participate in daylong prayer and fasting on Yom Kippur.
"Saturday, September 14 is a big football day," the announcement read. "Some of Temple Emanu-El, and all of the clergy, are college football fans. It is because of our support the past seven National Championships have been won by the Southeastern Conference and, the last four, in Alabama. On Yom Kippur, and the hours afterward, we will not discuss or even insinuate the scores of football games. It is a violation of our Holy Day, and it will ruin the post Break-The-Fast experience some of us hope to have when the day ends. No scores, or high fives, or Roll Tides or War Eagles. If even a peep gets out, our pages in the Book of Life will be compromised and all of us will suffer."
The intersection of faith and football in Birmingham is "serious" business, Miller said.
"This is serious and now with the proliferation of smartphones and more and more people staying the full day, they'd have one eye on their smartphone watching the game and it would ruin the withdrawal from the world into our spiritual lives that we want to achieve during Yom Kippur," he said. "I thought the sanctuary would really be sullied by football."
That's not the only reason, however, Miller admitted.
"I also want to go home and watch the game, and so do a lot of other people," he said. "So put away your smartphones and turn on your DVR. You go home at 7 or 8 o'clock, turn on the TV and watch it without commercials. What could be better than that?"
Saturday's game is the "most important" of the year for his beloved Crimson Tide, Miller said, particularly after last year's 29-24 win by the Aggies.
"It didn't go so well last year," he continued. "And Yom Kippur is a time to be forgiving – and I intend to do that – but I really want to see Alabama crush these guys. So, spiritually, there are two different things going on and I want to do Yom Kippur with a full heart and my football with a pure heart."
Miller said many congregants of synagogue, which reportedly includes SEC Commissioner Mike Slive, attend all-day services, simply taking them out of the game when it comes to following Nick Saban and his beloved Tide.
"I hope Alabama comes out on top, but I can't make a prediction," Miller said. "But I will predict we'll have a fabulous Yom Kippur. Our sins will be forgiven and our congregation will be moved to do better and be better next year."