Scott Askham finishes Chris Dempsey with beautiful head-kick KO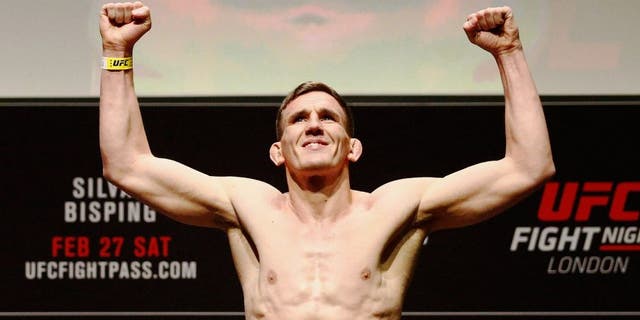 British middleweight Scott Askham brought the partisan crowd to its feet with an emotional win Saturday in London. The end came near the end of round one, after a good back-and-forth scrap between Askham and opponent Clint Dempsey.
Askham hunted for arms, early, on the mat but Dempsey managed to survive and get back to his feet. With just seconds left in the first period, however, the long Askham connected with a left straight punch to the forehead of Dempsey that wobbled the American, badly.
Dempsey kept his hands up, but stumbled backwards. Still, he was within kicking range and that's exactly how Askham managed to finish him.
A left high kick landed shin-on-head, for Askham, dropping Dempsey, hard. The referee wisely stepped in at that point, calling the bout.
The KO finish came at 4:45 of the first round for Askham. Afterwards, he celebrated with his fans from inside the Octagon, exclaiming, "There was no way anybody could walk in here and beat me, tonight!"
The win improves Askham's record to 14-2. The loss for Dempsey drops his mark down to 11-3.