Scores for Silva vs. Bisping oddly the same on all three cards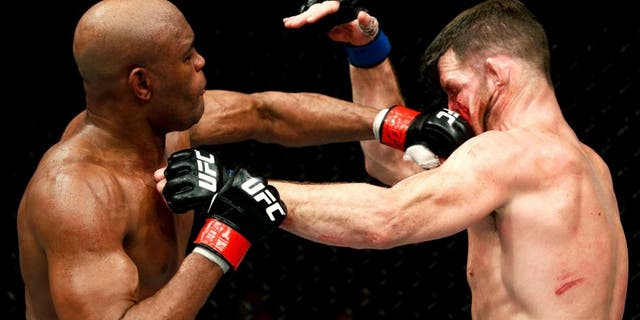 Michael Bisping defeated Anderson Silva on Saturday in London after a five-round battle that saw the Brit pull off a unanimous decision for the biggest win of his career.
Bisping ultimately got the nod by scores of 48-47 across the board to defeat the former middleweight champion.
Judging is always a hot button subject in MMA but on this occasion the three officials who determined the victor in the fight between Bisping and Silva all agreed across the board.
The official scorecard provided by the UFC shows that all three judges saw rounds one, two and four going to Bisping while rounds three and five went to Silva.
Round three marked the most dramatic moment of the entire fight after Bisping lost his mouthpiece and attempted to notify referee Herb Dean that it was laying on the canvas after an exchange with Silva.
Bisping turned away to ask the referee for time to put the mouthpiece back in, but Dean instead told the fighters to continue and Silva uncorked a hellish jumping knee that landed flush. Bisping fell to the mat in a heap, dazed and confused from the vicious shot courtesy of Silva.
Silva celebrated as if the fight was over, but Dean declared the bout would continue because he never actually called a stop to the contest.
Remarkably, Bisping gathered his senses and managed to come out to win round four as noted on all of the judges' scorecards after he was seemingly knocked out just a minute earlier.
In the end, Bisping got the nod with three rounds going his way, which was enough to get the biggest victory of his career as he becomes only the second fighter in the UFC to hand Silva a defeat.