Schneider starts for Canucks against slumping Oilers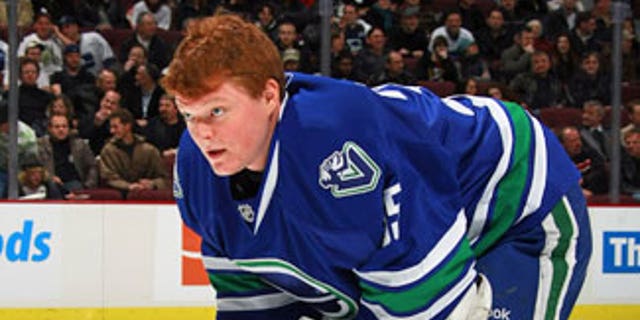 VANCOUVER, B.C. -- The Vancouver Canucks and Edmonton Oilers enter their matchup Saturday night at opposite ends of the League standings.
The Canucks are this season's Presidents' Trophy winners – clinching the feat with a win Thursday against the Los Angeles Kings while the Oilers would ensure the best odds to claim the No. 1 pick in the 2011 Entry Draft with a loss.
Cory Schneider gets the start in goal for the Canucks – his 21st of the season. The Marblehead, Mass. native is 15-3-2 in 22 appearances for the Canucks this season and understands tonight's start could be one of his last of the 2010-11 season.
"For me it's pretty clear I won't be playing a whole lot in the playoffs barring some kind of emergency," Schneider said. "I'm pretty happy with how (the season) has gone, I'm not sure it could've gone much better."
Schneider has won two games against the Oilers this season, allowing three goals, and is 6-0-0 with a 1.65 GAA in his last six starts overall.
The Sedin twins have led the Canucks in the previous four meetings between the two franchises this season. Henrik has a goal and six assists while his brother Daniel has three goals and three assists.
Shuffling the deck: Vancouver will have forward Tanner Glass back in the lineup tonight after he missed nine games with a rib injury.
"It's been kind of a weird experience," said Glass, who wasn't expected to miss as much action as he has. "I started out thinking it was going to be a few days to a week – it's been tough, but I'm looking forward to getting back in there."
Glass' return means Alex Bolduc has been reassigned to the Manitoba Moose of the AHL. Canucks coach Alain Vigneault said Bolduc would not play in the playoffs unless an injury occurs.
Yann Sauve slots in for an injured Chris Tanev on defense for Vancouver. Sauve played three games during a mid-February call-up.
"I'm really excited," Sauve said. "It's going to be my fourth game here and it's really a good experience to play in the NHL and learn from these guys."
It's been a long road for Sauve, who began the season dealing with effects from a concussion in September after being struck by a car in downtown Vancouver prior to training camp.
"It isn't something that happens in everybody's life," admitted Sauve. "I've been in three leagues, I've been to the (ECHL), AHL and now the NHL.
"I'm pretty proud of it and worked hard to be here."
Tanev suffered an upper body injury in the Canucks' 3-1 win against Los Angeles after he was hit from behind by Kyle Clifford.
Slumping Oil: Edmonton meanwhile comes in to Vancouver looking for its first win since March 5 – the Oilers have lost 11 straight going 0-8-3 in that span.
Tonight is the fifth of six meetings between the two clubs – Vancouver leads the season-series 4-0-0. The matchup is the first of a home-and-home, and the two teams play again Tuesday night in Edmonton.
"(Vancouver) is a great team and we're looking forward to the challenge," said Oilers coach Tom Renney, whose first NHL head coaching job was with Vancouver for 101 games between 1996-97 and 1997-98. "We realize what they're capable of obviously as do 28 other teams – we get the next chance."
The Oilers have been outscored 15-7 in the four meetings thus far this season. Edmonton comes to Rogers Arena after suffering a 4-2 loss to the Minnesota Wild on Thursday night.
Kurtis Foster will slot in on the blue line for veteran Jason Strudwick. Devan Dubnyk gets the start for the Oilers. He is 10-12-8 in 32 appearances this season.
"It's been tough, but for all of us in here, lot of young guys, we're not going to have a tough time finding motivation," the 24-year-old Dubnyk said. "All of us want to play and play well.
"It's important to have a good feeling about your game before we go into the off-season."
The Calgary native has a 2.87 GAA and a .911 save percentage this season.
League leaders: Not only do are the Canucks first overall in the NHL with 113 points, they are the league's best when it comes to goals-for (253) and goals-against (177). The last team to lead the league in goals-for and goals-against was the 1977-78 Montreal Canadiens.