Scary crash sends F1 driver Sainz to hospital at Russian GP practice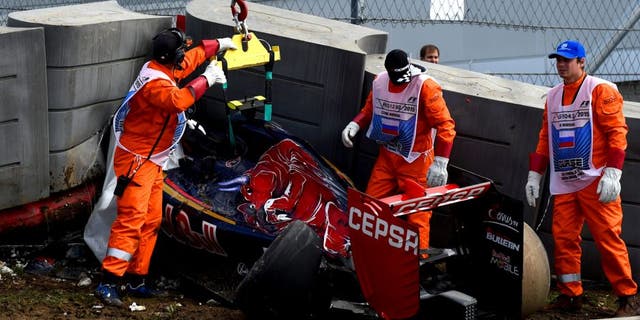 NEWYou can now listen to Fox News articles!
SOCHI, Russia -- A heavy crash for Carlos Sainz Jr. ended the final practice session at the Russian Grand Prix on Saturday with the Toro Rosso driver taken from the track in an ambulance for medical treatment.
Sainz lost control of his car on a high-speed stretch heading into a steep right-hand corner, before scraping along the wall and crashing head on into the barriers.
The Spanish driver remained in the car, with part of the barriers covering the cockpit as the medical car arrived. Cranes were used to lift the barrier sections off the car before Sainz was placed into an ambulance on a stretcher. He was conscious and gave a thumbs-up sign.
The session was red-flagged immediately after the crash with more than 20 minutes remaining and canceled shortly afterward.
Sainz's teammate Max Verstappen expressed concern over the radio to his team, asking ''Is he OK? It looked like a big one.'' The garage replied that ''We lost the power on the car, we don't know.''
The damage to the barriers was so severe that a support race was canceled because of the time needed for repairs. It was not immediately clear if there was a chance of Saturday afternoon's qualifying session also being delayed.
Mercedes' Nico Rosberg set the fastest time of the session with a lap of 1 minute, 38.561 seconds, ahead of Williams driver Valtteri Bottas and championship leader Lewis Hamilton of Mercedes.
The shortened session was the first chance teams had to run their cars in the dry in Sochi this weekend, giving them little chance to find appropriate car setups for qualifying and race conditions.
Friday's first session took place with much of the track wet due to efforts to clean up a fuel spill, while the second session was held in the rain.