Scarlet Knights don't want big loss to Buckeyes to define season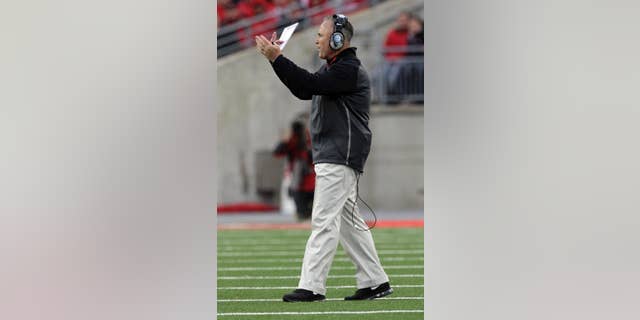 NEWYou can now listen to Fox News articles!
PISCATAWAY, N.J. – After getting blown out at No. 13 Ohio State, Rutgers defensive lineman David Milewski had a message for his teammates.
Don't let the 39-point loss define the season. Pick it up.
If the Scarlet Knights don't, they face another long Saturday when they travel to Nebraska to face the No. 16 Cornhuskers.
"What I want to see is these guys turn the page," coach Kyle Flood said. "I want to see guys own their mistakes, understand that we all need to get better, coaches and players alike, and then I want to see guys move forward. When I go to the field and I see high energy, when I see guys really moving with urgency, those are the things that tell me that we're doing it."
In recent years, Rutgers has struggled finishing the season. Last year, it started 4-1 before going 2-6, needing to win their final regular season game to become bowl eligible. In 2012, Rutgers started 7-0 only to go 2-4 down the stretch.
Milewski believes players have done a good job of putting the Ohio State loss behind them.
"There's no reason to dwell on it," he said. "When you lose a game like that, where you got beat up a little bit, you're just ready and excited to get back to the next game and get a different result because that taste in your mouth, that lingers for a while until you get a win."
While Flood doesn't believe in week-to-week momentum in football, he said his team can build momentum each week in practice.
Milewski said it's up to the team leaders to set the tempo.
"If you have bad practices, you'll probably have a bad game," he said. "You have to make sure you're stringing good practices and that all comes with attention to detail and enthusiasm when you get out there on the practice field."
Or as fullback Michael Burton said: it's up to Rutgers to create their own momentum.
"After a loss like that, you flush it and move forward," he said.
Players say that in years past they harped on losses. They insist that's not the case this year, noting they won three straight games after losing their inaugural Big Ten game against Penn State. The stretch included a win over Michigan.
Now they will face another hostile environment with 87,000 fans packing Memorial Stadium. Not to mention an opponent who is a favorite to win the Big Ten West Division.
Linebacker Kevin Snyder said the Scarlet Knights see the Ohio State game as a speed bump rather than the beginning of a slide.
"You start to realize how all in you need to be into this thing and that how much it matters each week to just get past it and move on," Snyder said. "Be a man. You lost. That happens. You lose sometimes. Now it's how you rebound and come back."