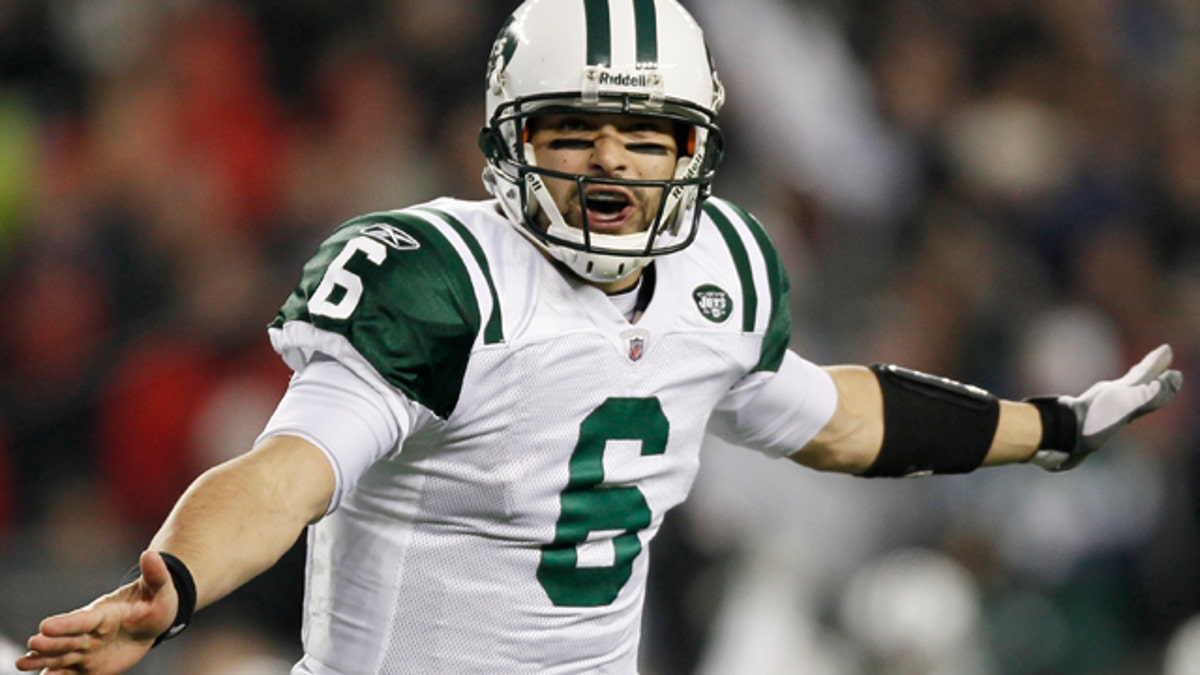 FLORHAM PARK, N.J. – Call them whatever bleepin' names you want — and plenty already have. Rex Ryan's bunch of blabbermouths isn't shutting up anytime soon.
They insult the other team's quarterback, needle the opposing coach and never stop yapping.
Not the way it's normally done in the NFL. Not in any sport, really.
Only with these jabbering New York Jets, it's working. Cover your ears because they're talking all the way back to the AFC championship game.
"We've got guys who are confident," defensive back Dwight Lowery said Monday, "and we all show that confidence in different ways."
They take their cue from Ryan. He's made bold predictions from the moment he took over two years ago, coaching a franchise that had lacked an identity ever since Broadway Joe made the biggest boast of all 42 years ago.
Sometimes, Ryan and his guys have been a bit profane. But if that offends other people, well, then too bad.
Besides, a win Sunday in Pittsburgh and the Jets reach the Super Bowl for the first time since that famous 1969 win over the Baltimore Colts.
No wonder Joe Namath loves what he's seeing — and hearing.
"THATS WHAT WE'RE TALKIN ABOUT!!!" Namath tweeted after Santonio Holmes' tremendous TD catch Sunday against New England.
Next up, the green-and-white sequel in this made-for-TV season.
"Everybody's true to their colors here," defensive lineman Sione Pouha said. "This is Rex's style, and as everyone can see, we love it."
Just ask the Patriots, who've seen and heard enough of the Jets to last an entire offseason. After New York's wild on-field celebration in Foxborough — complete with Braylon Edwards' backflip — following a 28-21 win, Patriots wide receiver Deion Branch called the Jets "classless."
"Just take the loss like a man," cornerback Darrelle Revis said. "Just take it like a man, and move on."
So far, the Jets have backed up their tough talk.
First, Peyton Manning and Indianapolis.
Then, Tom Brady and the Patriots.
All on the road.
Standing in their way to the Super Bowl are Ben Roethlisberger and the Steelers.
"I think we know the formula that it takes to win," Ryan said. "Now, we just have to go out and do it, albeit in an incredibly tough environment."
No, Ryan's confidence hasn't wavered one bit. Not with a trip to the Super Bowl at stake.
"I just talk the way it is," he said. "If you can't get motivated to win an AFC championship game, I don't know what else you need."
When Ryan first took over, he was hailed by many as a breath of fresh air in a league filled with tightlipped coaches who play things close to the vest.
"New York is very diverse and I think your team should reflect where you are," Lowery said. "That might have something to do with it. It might be that this is just the right coach for this organization and this area."
Anything goes with Ryan, whether it's self-deprecating humor about his weight or talking about how his team will meet the President Barack Obama someday soon.
The Jets' locker room is filled mostly with players who speak openly about themselves or their opponents — not worried about consequences or perceptions.
"I totally disagree with people saying we're trash talking," Pouha said. "We're confident talkers more than we are talking trash."
But there have been few teams in professional sports that have been successful on the field while being so loose off it.
Sure, there were the Super Bowl Shufflin' Bears of 1985, a team whose defensive coordinator was Ryan's father, Buddy. There were also the Dallas Cowboys of the 1990s, the renegade Raiders of the 1970s, the 1986 New York Mets, the NBA's Bad Boy Pistons, and the stormy and scandalous Miami Hurricanes of the '80s.
These Jets under Ryan are the closest to a team people love to hate as we've seen in a while.
"Part of it is maybe because when you see a team that wins Super Bowls, or has a lot of repeated success, people try to duplicate that," Lowery said. "So, when the Patriots were winning a lot in the 2000s, it was like, that's what you needed to do to win. So, now, you have a lot of teams trying to adopt that style and it may not fit their style. Rex got a head job and just came in and this is how he wants to run the ship."
And, who knows? It could be the start of a louder, new trend in the NFL.
"Hopefully, because I feel like this is a better environment to be in and play football because there's a lot of stress that goes into this job," Lowery said. "You want to be able to have some kind of outlet, and one outlet to have is being yourself. You don't have to walk around with your arms at your side and stand straight and wear a suit everywhere.
"It's still a kid's game."
With big-boy dreams.
"Obviously, we set a goal to go to the show, and everybody has the same goal in August and the majority of people don't say it," Pouha said. "A lot of teams have great players and don't say it. Well, we say it."
And, people in other sports are taking notice. In fact, Phoenix Suns coach Alvin Gentry imitated Ryan — who said the Jets-Patriots game was between him and Bill Belichick — before the team's 129-121 win over the New York Knicks at Madison Square Garden on Monday.
"It's personal," a joking Gentry said, referring to his former boss, Knicks coach Mike D'Antoni. "It's me and Mike, OK? It just comes down to me and Mike, that's it. It doesn't have anything to do with the players, anything. It's me and Mike. I've got to be a better coach than Mike today, OK?"
Talk about the ultimate form of flattery.
"Rex has said something like, 'There's always going to be people who like what you do, and others who don't like you, whether you're a football player, an astronaut, a doctor or just some guy on the street,'" Lowery said. "He's told us that people are not going to like us, and there are people that love us and others who are in between. So, you've just got to be yourself."
___
AP Basketball Writer Brian Mahoney contributed to this report.