Santana dominant, Plouffe hits 3-run HR in Twins' 3-0 win over Angels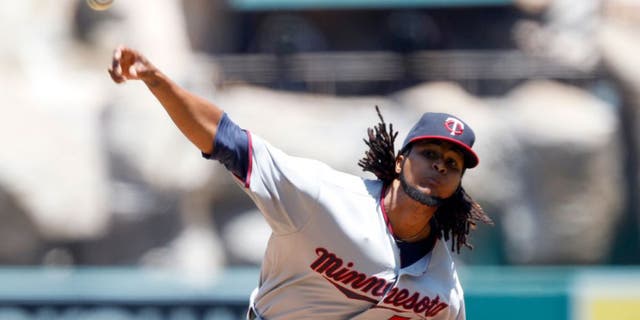 ANAHEIM, Calif. -- Ervin Santana has been worth the wait for the Minnesota Twins.
Santana pitched eight innings of four-hit ball against his former team, and the Twins snapped both their four-game skid and the Angels' seven-game winning streak with a 3-0 victory over Los Angeles on Thursday.
Trevor Plouffe hit a three-run homer in the fourth inning for the Twins, who wrapped their six-game California road trip with bookend wins.
Santana (2-0) was outstanding in his fourth start for Minnesota after throwing 7 2-3 scoreless innings in Oakland last week. He spent his first eight major league seasons with the Angels, winning 96 games from 2005-12.
"It means a lot," Santana said. "It means I've still got it, so that's good."
Santana was suspended for the first 80 games of the season after testing positive for performance-enhancing drugs, costing him half of the first season of his four-year, $55 million contract, the biggest free-agent deal in Twins history.
"I think his transition back, given the circumstances, was handled fairly smoothly," manager Paul Molitor said. "He has been able to turn the page. . . . It was pretty special to control a lineup like that. You really look for those kind of performances to lift your team."
Santana struck out seven and didn't walk a batter, working quickly with good control -- the same attributes that made him popular during his time in the home dugout at the Big A.
The Angels had two singles in the first inning, but never got another runner to second base.
"We've seen Ervin from our side for a long time, and when he gets on a roll in the zone with his fastball and his slider, he can be tough," Angels manager Mike Scioscia said. "His velocity today was the best I think we've seen it in probably the last couple of years. It could be because he's fresh."
All-Star closer Glen Perkins pitched the ninth for his 29th save, bouncing back from his first blown save of the season last week in Oakland. Santana threw only 91 pitches and was eager to finish a shutout, but Molitor elected to use Perkins, who hadn't pitched since that blown save.
"I thought I was going to go back out with no problems, but when he told me that, I was like . . ." Santana said before miming a big sigh with a grin.
Garrett Richards (10-7) yielded four hits over eight innings in his second loss in three starts. The Angels had won 13 of 15 and 17 of 20 while climbing atop the AL West.
Coming off a shutout of Boston last weekend, Richards had retired 26 consecutive batters over two starts before Joe Mauer's two-out double in the fourth. After rookie Miguel Sano walked, Plouffe cleared the bases with his 13th homer.
"Richards is a tough guy to face, and we knew it would be tough," said Plouffe, a San Fernando Valley native. "But we had Santana out there, who was his equal or better today. I got the hit, but he won it for us."
Richards, who escaped a bases-loaded jam in the eighth, still has a 2.34 ERA in his last eight starts.
"I made a bad pitch (to Plouffe) and caught too much of the plate with it," Richards said. "If I execute my pitch right there, I'm out of the inning."