Sanchez Gets Extension, Jets Out of Manning Hunt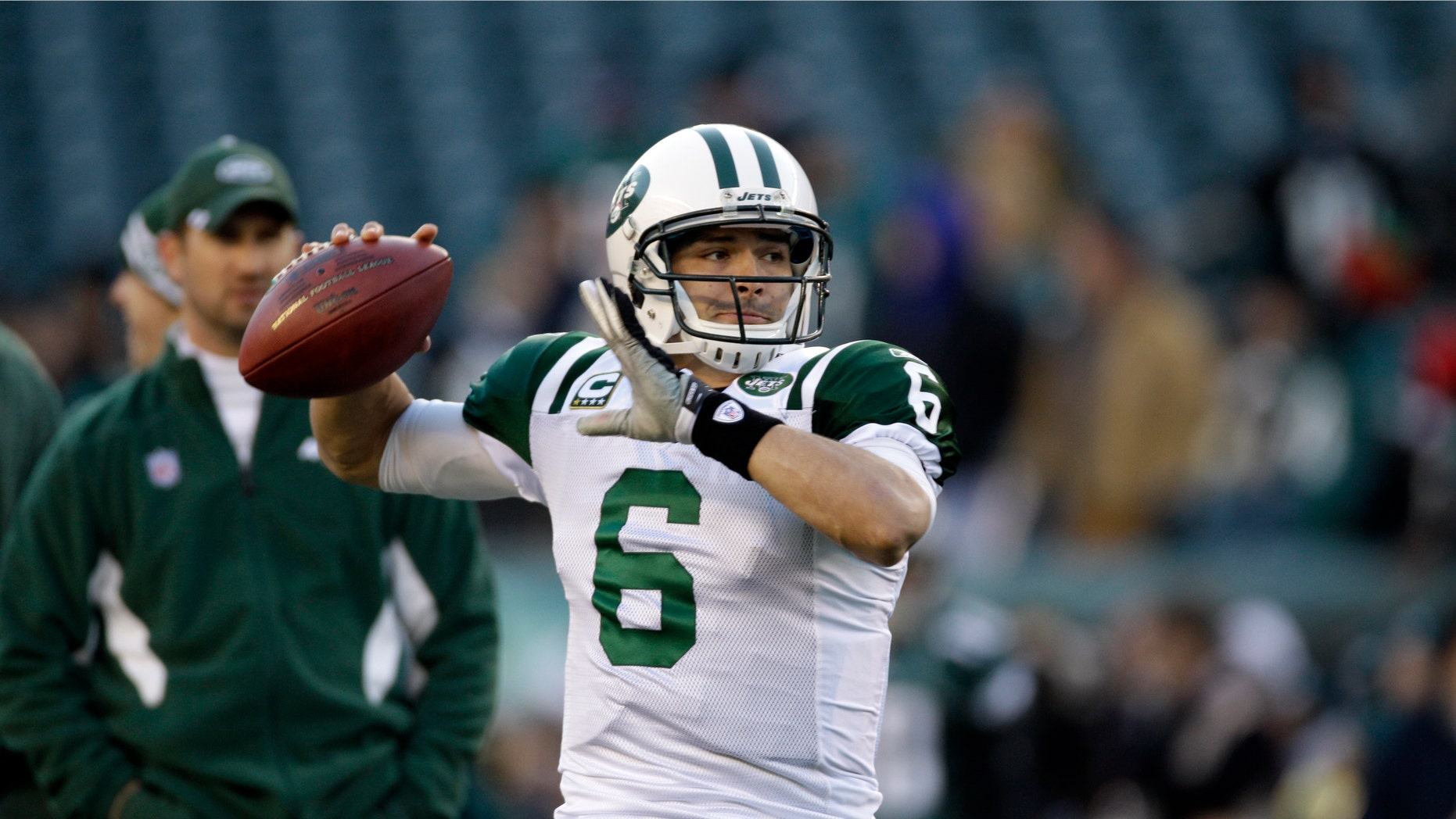 NEW YORK – As rumors continued as to which jersey Peyton Manning will put on next season, the Jets decided that it will not be a green and white one as they granted a contract extension to quarterback Mark Sanchez.
After New York "looked into" pursuing Manning, Jets general manager Mike Tannenbaum announced Friday night that the team extended Sanchez's contract by three years. The move ended speculation the Jets could push him aside to make way for the former Indianapolis Colts star who's now a free agent.
"I'm going to be the starting quarterback for the next few years here, and that's exciting," Sanchez said on a conference call. "It gives the team just a reminder that I'm the leader of this team."
Yep, Sanchez is still the main man for Rex Ryan's Jets, not Manning.
"To find out that I could come back for three more years means the world to me," Sanchez said. "I'm absolutely pleased to be a Jet."
Sanchez, 25, had two years remaining on the deal he signed when the Jets made him a first-round draft pick in 2009. The contract extension is for $40.5 million, giving him five total years for $58.25 million, with $20.5 million fully guaranteed, a person with knowledge of the deal told The Associated Press.
The person, who spoke on condition of anonymity because the team hadn't announced financial terms, said the deal includes an additional $10 million in potential escalators. So, the maximum value of the three new years is $50.5 million, and $68.25 million over the entire deal.
"We've won a lot of football games with Mark as the starting quarterback of the New York Jets, and that's really what convinced us," Tannenbaum said. "It's not a projection. It's not a hope. It's not an incremental leap of faith. It's, "Here's a three-year body of work.'"
Tannenbaum did not elaborate on the Jets' inquiry about Manning, but acknowledged the team had internal discussions about possibly going after the four-time NFL MVP.
"When a first-ballot Hall of Fame quarterback becomes available," Tannenbaum said, "you look into it."
Sanchez is 31-22 as a starter and led the team to the AFC championship game as a wild card in his first two seasons, but struggled as the Jets lost their last three games in 2011 to finish 8-8 and out of the playoffs. Sanchez, along with former offensive coordinator Brian Schottenheimer, took heavy criticism for the team's step back.
"If anything, that fuels me," Sanchez said.
Sanchez's poor play down the stretch led to speculation that the Jets would pursue Manning, who was released by the Colts on Wednesday. New York was mentioned along with several other teams, such as Miami, Arizona and Denver, as possible suitors.
Sanchez, who said the team approached him about an extension shortly after the season ended, wasn't discouraged by the Jets' interest in Manning.
"Honestly, I completely understand, especially being there for three years now in the NFL that this is a business, and the team has its obligation to consider all of its options," Sanchez said. "I'm excited that the Jets believe in me and that I was the guy they want to move forward with in the future. You know, I really didn't think too much into it."
Sanchez had his best statistical season, throwing for a career-high 3,474 yards and 26 touchdowns while also rushing for six scores. But he was dogged by inconsistent play and subpar decision-making at times with 26 turnovers. There was also a rift between him and wide receiver Santonio Holmes — something Sanchez said has been smoothed over.
"We've been in contact, really, the whole offseason," Sanchez said, adding that he has met with Holmes. "I think a bigger deal was made out of that than needed to be, but that's OK. ... We've kind of laughed that off at this point now, weeks ago."
Sanchez also brushed off a media report after the season in which anonymous players criticized him and called for the Jets to make a serious run at Manning.
"If you're an unnamed source, you don't speak for yourself and therefore, you don't really speak for the team," Sanchez said. "So, I didn't really pay it any mind."
Both Sanchez and Tannenbaum declined to speculate whether he would have remained on the team if the Jets had gone ahead and been able to sign Manning. Despite the minor flirtation with the idea, the Jets showed their faith in Sanchez in the end based on what he has accomplished in just three seasons.
Kate Upton, Rumored Mark Sanchez Squeeze, SI Cover Girl
Even if it has had some ups and downs, as Tannenbaum acknowledged.
"We don't have blinders on," he said. "It has to get better and we think it will get better and we think it will become more consistent going into Mark's fourth year."
In an effort to do that, Sanchez said he has visited former Jets quarterback Chad Pennington to try to pick up new offensive coordinator Tony Sparano's system before offseason workouts begin.
"I think, if anything, this past year I learned more than my first two years combined about how to handle adversity and things I could have done better, whether it's on or off the field," Sanchez said. "I just know that there's so much more for us to accomplish together."
Based on reporting by The Associated Press.
Follow us on twitter.com/foxnewslatino
Like us at facebook.com/foxnewslatino