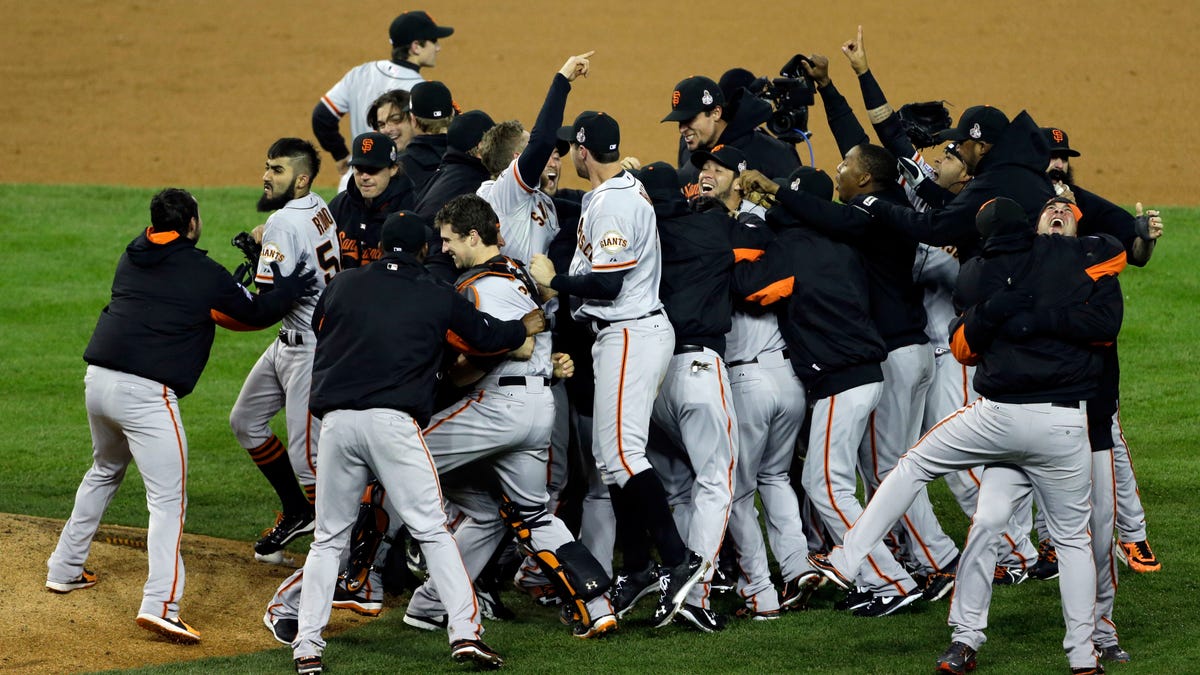 Marco Scutaro singled home the tiebreaking run in the 10th inning, and the San Francisco Giants beat the Detroit Tigers 4-3 on Sunday night to complete a four-game sweep and win their second World Series title in three years.
Ryan Theriot, who went hitless for St. Louis in Game 7 of last year's Series, singled softly into right field off Phil Coke opening the 10th.
Brandon Crawford sacrificed, nearly bunting the ball past Coke. Angel Pagan struck out and Scutaro singled into short center field as Theriot slid home ahead of Austin Jackson's throw.
Pablo Sandoval, who hit three homers in Game 1, was selected Series MVP. He was 1 for 5 in Game 4, dropping his Series average to .500 (8 for 16).
Santiago Casilla got the final out of the ninth for the win, and Sergio Romo struck out the side in the 10th for his third save, freezing Triple Crown winner Miguel Cabrera with a called third strike to end it. The Giants ran out of the dugout and bullpen to celebrate between the mound and second base.
Of the 24 teams to take 3-0 Series leads, 21 swept and three won in five games.
Delmon Young hit a tying home run off Matt Cain in the sixth. Cabrera and San Francisco's Buster Posey homered, marking the first time both reigning batting champions went deep in the same Series game.
San Francisco's Brandon Belt hit an RBI triple off the right-field wall in the second inning following a ground-rule double by Hunter Pence. But on a night when the wind was gusting to right field at up to 25 mph, Cabrera put Detroit ahead for the first time in the Series with a wild-blown, two-run drive in the third.
Cabrera's drive, on an 86 mph breaking ball, sailed over Pence, who thought he would catch it but ran out of room in front of the right-field wall on the cool, blustery night. It drove Jackson, who had walked with one out, and ended Detroit's 20-inning scoreless streak.
San Francisco had not trailed since losing Game 4 of the NL championship series, when the Giants fell into a 3-1 series deficit against St. Louis.
With a light rain falling, Scutaro reached on a chopper to third leading off the sixth and, one out later, Max Scherzer hung an 82 mph breaking ball. Posey drove it down the left-field line, where it stayed a few feet fair and landed a couple of rows over the wall for a 3-2 lead.
That advantage didn't last long. Young sent an opposite-field, no-doubt drive into the right-field stands in the bottom half, setting off cheers among the crowd of 42,152, with many fans waving white rally towels.
Andy Dirks followed with a single and Jhonny Peralta hit a drive that Gregor Blanco caught against the wall in left.
After watching Barry Zito, Madison Bumgarner and Ryan Vogelsong each allow one run or none in the first three games, Cain gave up three runs and five hits in seven innings with five strikeouts and two walks.
Scherzer, pitching on nine days' rest, gave up three runs and seven hits in 6 1-3 innings, struck out eight and walked none. After he left with a runner on second and one out in the seventh, lefty Drew Smyly retired Brandon Crawford on a flyout and righty Octavio Dotel induced a groundout from Angel Pagan.
Smyly, Dotel and Coke combined for 2 2-3 innings of hitless relief before the 10th.
Jeremy Affeldt followed Cain and struck out four in a row before Peralta hit a ninth-inning drive to center that the wind carried and was caught by Pagan on the warning track
Casilla relieved and hit Omar Infante with a pitch, breaking his left hand. Danny Worth ran for Infante and Gerald Laird hit into a forceout.
Sandoval was 1 for 5, dropping his Series average to .500 (8 for 16). He also made a nimble play to throw out Quintin Berry on a bunt to third.
Detroit's Prince Fielder was hitless in four at-bats, dropping to 1 for 14 in the World Series (.071) and 1 for 25 (.040) against right-handers in the postseason.
Detroit has lost seven straight postseason games.
On a 44-degree night, fans bundled up at Comerica Park and some players wore caps with earflaps during batting practice.
Detroit scratched catcher Alex Avila, playing with a sore right arm since he was hit by a foul tip in the opener, and replaced him with Laird. Infante moved up to eighth in the batting order.
San Francisco started Ryan Theriot at designated hitter instead of Hector Sanchez.
NOTES: Ann Romney, wife of Republican presidential candidate Mitt Romney, attended the game.