San Francisco Giants outfielder tackles fan who runs onto field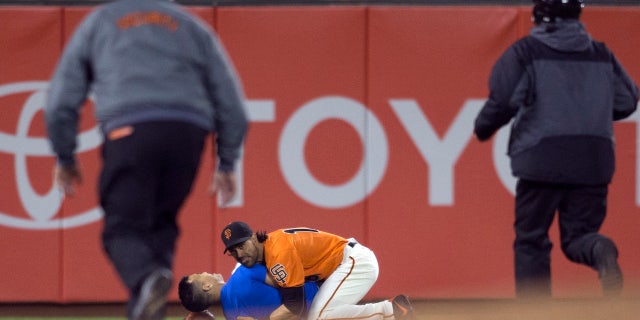 If professional baseball doesn't work out, San Francisco Giants outfielder Angel Pagan can always turn to professional wrestling.
During the fourth inning of Friday night's game between the Giants and the Los Angeles Dodgers, Pagan executed a perfect takedown of a male fan who ran onto the outfield grass.
Another fan — a female — was taken down by security in shallow right field. The two, dressed in Dodger Blue and offering what appeared to be white puffballs, were removed.
The male first approached catcher Buster Posey, who with his left arm shoved the man to the ground. The man jumped up and ran and third baseman Gordon Beckham swiped at him before he took off into left field. Pagan offered a hand as if to accept the round white object before throwing both arms around the man, twisting him and throwing him to the ground.
Pagan received a roaring ovation from the sellout crowd when the half-inning ended and tipped his cap.
The Associated Press contributed to this report.