San Francisco 49ers preview (No. 25): It's a new day in the Bay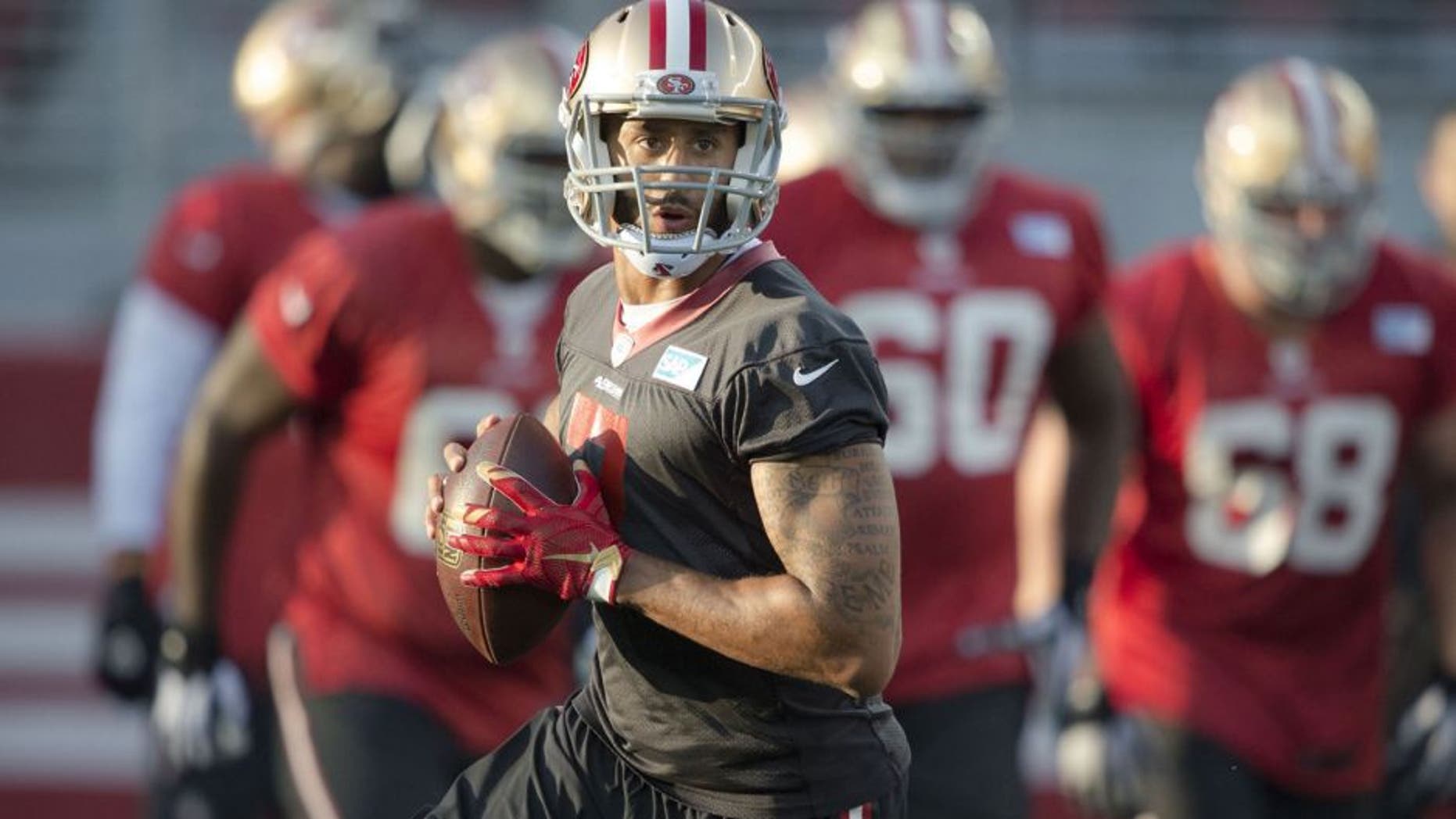 Our 2015 NFL preview series ranks every team, from worst to first. Today: the No. 25 49ers.
2014 Record: 8-8 (missed playoffs)
Head coach: Jim Tomsula (first season, 1-0 regular season)
Key arrivals: Reggie Bush (running back), Torrey Smith (wide receiver), Darnell Dockett (defensive end), *Arik Armstead (defensive end)
(Note: *- denotes rookie)
Key departures: Frank Gore (running back), Michael Crabtree (wide receiver), Mike Iupati (guard), Anthony Davis (tackle), Justin Smith (defensive end), Patrick Willis (inside linebacker), Chris Borland (inside linebacker), Chris Culliver (cornerback), Perrish Cox (cornerback), Andy Lee (punter)
2015 Schedule (ET):
Sept. 14: Minnesota, 10:20 p.m.
Sept. 20: at Pittsburgh, 1 p.m.
Sept. 27: at Arizona, 4:05 p.m.
Oct. 4: Green Bay, 4:25 p.m.
Oct. 11: at New York Giants, 8:30 p.m.
Oct. 18: Baltimore, 4:25 p.m.
Oct. 22: Seattle, 8:25 p.m.
Nov. 1: at St. Louis, 1 p.m.
Nov. 8: Atlanta, 4:05 p.m.
Nov. 15 BYE
Nov. 22: at Seattle, 4:25 p.m.
Nov. 29: Arizona, 4:05 p.m.
Dec. 6: at Chicago, 1 p.m.
Dec. 13: at Cleveland, 1 p.m.
Dec. 20: Cincinnati, 8:30 p.m.
Dec. 27: at Detroit, 1 p.m.
Jan. 3: St. Louis, 4:25 p.m.
TRAINING CAMP QUESTION: How will the 49ers replace a bevy of departed starters on defense?
Even with greats like linebacker Patrick Willis and defensive end Justin Smith retiring as well as four veterans leaving via free agency, San Francisco has some promising replacements waiting in the wings for new defensive coordinator Eric Mangini to build with. It's the unproven depth behind those new starters that's a bigger concern. The 49ers spent their first three draft picks on defensive players in Oregon end Arik Armstead, Samford safety Jaquiski Tartt and Virginia outside linebacker Eli Harold. Any immediate contributions the trio could provide would help accelerate San Francisco's transition to the post-Jim Harbaugh era.
IF EVERYTHING GOES RIGHT:
The change in offensive philosophy under new head coach Jim Tomsula gets the 49ers' offensive identity back. Tomsula, the first-year head coach who takes over for the departed Jim Harbaugh, has promised a return to ground and pound. He has the horses to do it, too, in running backs Carlos Hyde, Reggie Bush, Kendall Hunter and rookie Mike Davis. Don't forget that Tomsula also said quarterback Colin Kaepernick will be more involved in the running game, as well. The 49ers also have Anquan Boldin and Torrey Smith at wideout, with Vernon Davis at tight end, to mix things up in the passing game. They return to the playoffs, where they got to in three of four seasons under Harbaugh.
IF EVERYTHING GOES WRONG:
The 49ers have likely had the worst offseason of any team in the NFL, losing almost their entire coaching staff and nine starters from their Week 1 lineup from 2014. The losses of left guard Mike Iupati and right tackle Anthony Davis may hurt the running game and Kaepernick's progress. In addition, the losses of Justin Smith and Patrick Willis on defense will leave a huge talent hole, but a leadership void will exist as well. Not to mention they play in what's been called the best division in football with the Cardinals, Rams and Seahawks. Given that schedule, the 49ers get into a deep hole (let's say 2-6) and are out of it by midseason.
BREAKOUT PLAYER: Running back Carlos Hyde
San Francisco's 2014 second-round pick impressed enough in limited duty last season (83 carries for 333 and four touchdowns) that the 49ers didn't competitively try to re-sign starter Frank Gore. Hyde is the unquestioned lead back as he tries to fill the giant shoes Gore left behind as San Francisco's all-time leading rusher.
CIRCLE THIS DATE ON THE CALENDAR GAME: vs. Seattle, Week 7 (8:25 p.m. ET/Oct. 22)
This rivalry has lost something following the departure of 49ers head coach Jime Harbaugh, but replacement Jim Tomsula could cement himself as a thorn in Peter Carroll's side if San Francisco takes advantage of playing at home on Thursday night on a short week. The 49ers have lost three straight to Seattle.
ALEX MARVEZ'S PREDICTION: 6-10, fourth place
San Francisco's three-year window of opportunity for a Super Bowl victory slammed shut in 2014. The 49ers tumbled to an 8-8 record as the Jim Harbaugh drama unfolded. The positive part for the 49ers is the elimination of a dysfunctional head coach/front office working arrangement with Jim Tomsula having become the hand-picked choice of General Manager Trent Baalke to replace Harbaugh, who left for the University of Michigan. Besides the pressure of having to replace a successful predecessor, Tomsula inherits a roster shaken by free-agent departures and retirements. The offensive line was especially hard hit. The 49ers are set to start the unproven Brandon Thomas at left guard and have an open competition at right tackle following the surprising decision by Anthony Davis to skip the 2015 season for health reasons. Other positions that were once strengths -- notably inside linebacker, running back and the defensive line -- are now more suspect until new starters prove themselves as worthy replacements. That also means 49ers quarterback Colin Kaepernick must carry more of the load than at any point during his previous four NFL seasons. San Francisco has given Kaepernick some new weapons to work with in Baltimore wide receiver Torrey Smith, who is the deep threat the 49ers were sorely lacking, and multipurpose running back Reggie Bush. If he doesn't play better that last season, the 49ers have reason to question whether Kaepernick is a true franchise passer.