San Diego Chargers preview (No. 7): Time to challenge the Broncos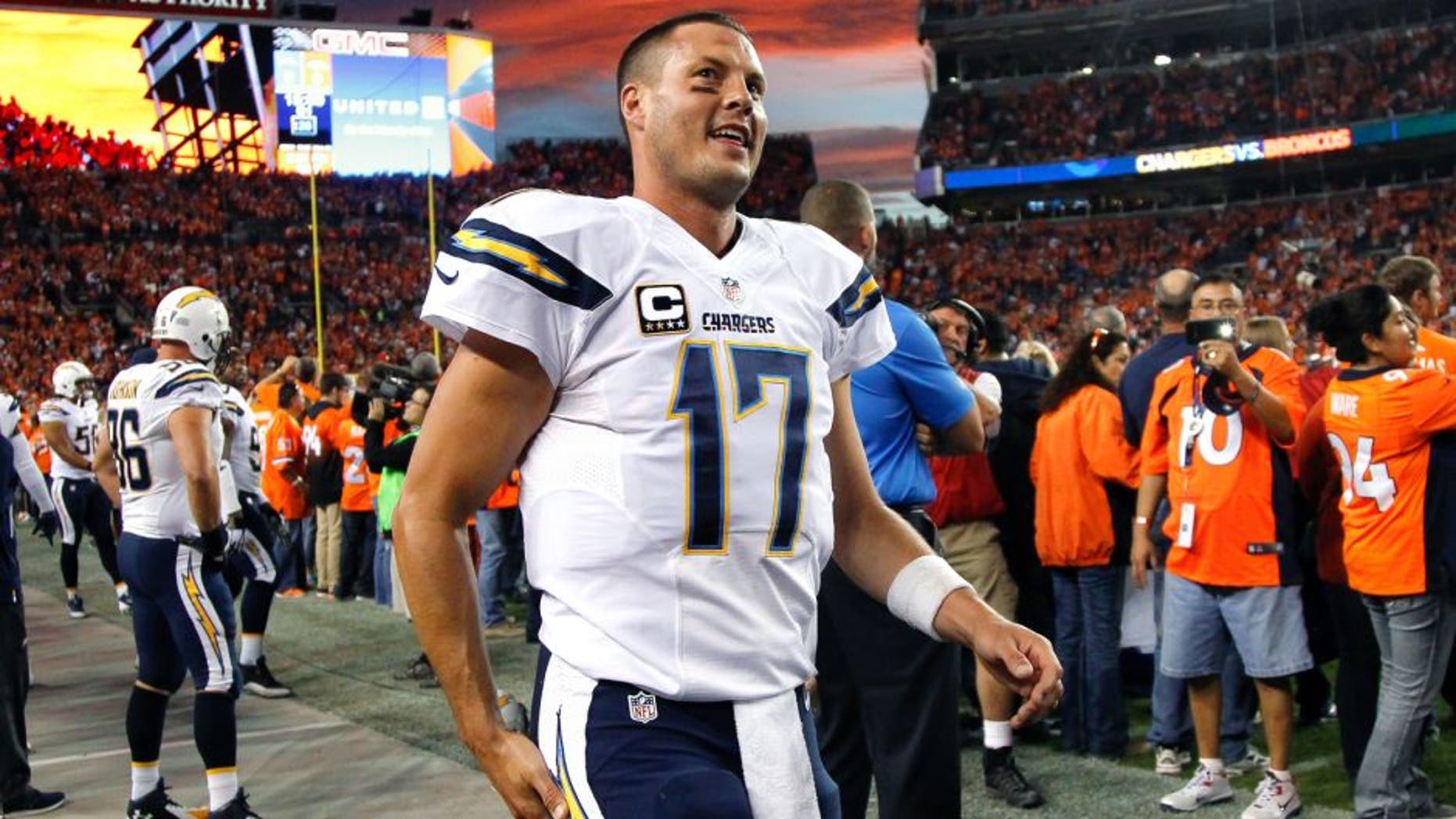 Our 2015 NFL preview series ranks every team, from worst to first. Today: the No. 7 Chargers.
2014 Record: 9-7
Head coach: Mike McCoy (third year, 18-14 regular season, 1-1 playoffs)
Key arrivals: Jacoby Jones (wide receiver/kick returner), Orlando Franklin (guard), Patrick Robinson (cornerback), Stevie Johnson (wide receiver), *Melvin Gordon (running back), Denzel Perryman (linebacker)
(*-denotes rookie)
Key departures: Ryan Mathews (running back), Seyi Ajirotutu (wide receiver), Eddie Royal (wide receiver), Michael Huey (guard), Andrew Gachkar (linebacker), Reggie Walker (linebacker), Marcus Gilchrist (safety)
2015 Schedule:
Sept. 13: Detroit, 1:00 pm
Sept. 20: at Cincinnati, 1:00 p.m.
Sept. 27: at Minnesota 1:00 pm
Oct. 4: Cleveland 4:05 pm
Oct. 12: Pittsburgh 8:30 pm
Oct. 18: at Green Bay 4:25 pm
Oct. 25: Oakland 4:05 pm
Nov. 1: at Baltimore 1:00 pm
Nov. 9: Chicago 8:30 pm
Nov. 15: BYE
Nov. 22: Kansas City 8:30 pm
Nov. 29: at Jacksonville 1:00 pm
Dec. 6: Denver 4:05 pm
Dec. 13: at Kansas City 1:00 pm
Dec. 20: Miami 4:25 pm
Dec. 24: at Oakland 8:25 pm
Jan. 3: at Denver 4:25 pm
TRAINING CAMP QUESTION: Can OLBs Melvin Ingram and Jerry Attaochu improve the pass rush?
The Chargers have declined in sacks for three straight seasons and finished last year with just 26, which ranked 29th among all NFL teams. San Diego also hasn't had a defender hit double-digits since linebacker Antwan Barnes in 2011. The Chargers showed confidence that Ingram and Attaochu can get the job done by not making any offseason acquisitions at outside linebacker and waiting until the fifth round to draft North Dakota State's Kyle Emanuel. Ingram has dropped 20 pounds this offseason to 246 hoping for extra burst and to avoid injuries that have plagued his NFL career. Attaochu told Chargers media he feels far more comfortable after a rookie season in which he logged only 10 tackles in 11 games.
IF EVERYTHING GOES RIGHT:
San Diego's high-flying offense will be complemented by the services of rookie sensation Melvin Gordon. The Wisconsin product, who looks to be an early candidate for Offensive Rookie of the Year, should be a major factor. On the other side of the ball, San Diego's front seven will apply pressure on opposing quarterbacks creating chances for an opportunistic secondary.
IF EVERYTHING GOES WRONG:
Eric Weddle is in a highly public contract dispute with the team. The uncertainty surrounding where the Chargers will play in 2016 could affect Philip Rivers' to re-sign beyond this season. On the field, the offensive line has been a glaring weakness in recent seasons. Did San Diego do enough to bolster the unit? Furthermore, the cornerbacks are largely a group of lightly contested players
BREAKOUT PLAYER: Tight end Ladarius Green
Green will be starting San Diego's first four games with Antonio Gates suspended for use of a performance-enhancing drug. This could result in his exceeding a career season-high of 19 catches in the first quarter of the year. Green will greatly enhance his free-agent stock for 2016 with a strong showing.
CIRCLE THIS DATE ON THE CALENDAR GAME: vs. Miami in Week 15 (4:25 pm ET/December 20):
This could very well be the last NFL game ever played in San Diego with the Chargers eyeing a move to the Los Angeles area for the 2016 season.
ALEX MARVEZ'S PREDICTION: 10-6, first place
San Diego's offseason moves on offense made it no secret that the Chargers are reverting to the rush-heavy approach that led to a second-round playoff appearance during the 2013 campaign. A first-round pick was used on Gordon to become the bell-cow running back that Ryan Mathews never was because of his inability to stay healthy.
The biggest free-agent signing was swiping left guard Orlando Franklin away from Denver, which now gives San Diego one of the league's biggest offensive lines. Chargers quarterback Philip Rivers isn't complaining about any of this. Rivers was forced to carry too much of the offensive load last season because of injuries that decimated the offense. San Diego failed to score more than 14 points in losing three of its final four games and missing the playoffs. The Chargers already know Rivers will be without one of his top targets for the first four games as Gates serves a PED suspension. Defensively, the Chargers are banking on improvement from Ingram and Attaochu to boost what was a tepid pass rush in 2014
Two reasons for concern in San Diego are potential off-field distractions: The franchise's potential move to Los Angeles in 2016 as well as contract situations involving Rivers and free safety Eric Weddle, both of whom are slated to become free agents at season's end.